R.D. and S.H. National College, established under the leadership of Rishi Dayaram Gidumal and Dr. Annie Besant in 1949, is one of the oldest colleges affiliated to the University of Mumbai and the first of the 24 educational institutions established by the Hyderabad Sind National Collegiate Board. Its an estmeed Sindhi Minority institute which has grown from strength to strength in the past 7 decades.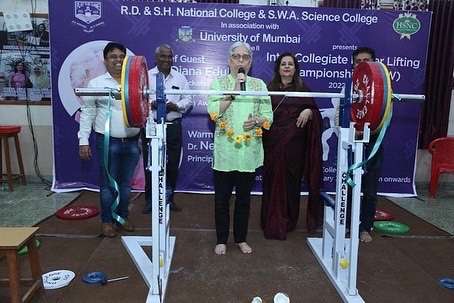 In an exclusive conversation with Saying Truth, college representative told that RD & SH National College is hosting Mumbai University's Inter-Collegiate Zone II power-Lifting Championship for Men & Women for the academic year 2022-23 on 10th and 11th January, 2023. The Inauguration for the championship was held on 10th January 2023 at 11:30 AM
To grace this occasion, Ms Diana Edulji, the former Indian Test cricketer was invited as the Chief Guest.
Being a record holder for delivering the most balls by any woman cricketer in Women's test history, an Arjuna Award Winner and first woman to be appointed to the BCCI selection panel, it was truly inspiring to have her for the inaugural program.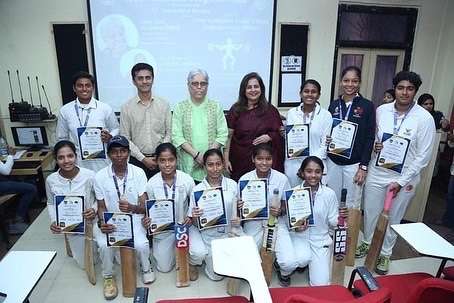 Padma Shri Ms Diana Edulj, former Indian Test cricketer declared the Powerlifting Championship open by hitting a winning shot.
RD & SH National College's In-House Women's Cricket Team was felicitated by the august hands of the legend herself, Ms Diana Edulji.
Ms Diana Edulji had also introduced the first ever Powerlifting Team for Indian Western Railway for Women which made her the ideal Chief Guest for the Inaugural Program.
This splendid event was being organized under the able guidance of the Principal, RD National College, Dr Neha Jagtiani and was ably supported by the sports committee.
Note: R.D. and S.H. National College is the mother institution and envelops the cultural richness and the history of the Hyderabad and Sindh Board. In its legacy of over 70 years, the college has had leaders and prominent personalities from all walks of life from the late President of India Dr. APJ Abdul Kalam to the music maestro, A.R. Rahman, visiting and motivating the students from time to time.