What is Polio?
Polio (also known as poliomyelitis) is an illness that causes sudden weakness/lameness of the limbs.
The polio virus affects mostly children below Five years.
The polio virus can be transmitted easily from one person to another.
Prevent Polio
Polio can be prevented by immunization with administration of polio drops at birth, 6 weeks, 10 weeks, 14 weeks, 18 months & 5 years of age.
Polio Knowhow
Polio causes sudden weakness or inability to use a leg and arm.
In children who are too young to walk, the mother may notice that one of the legs or arms appears floppy & weak.
Community Participation
Community members and parents can help by immediately reporting any child who develops weakness of either an arm and/or leg (without any injury), to the nearest clinic or hospital
When a patient with such weakness is taken to hospital, tests are done to ensure it is not polio
All parents and care givers must take their children to the clinic for polio drops at appropriate age
Remember
Polio can be prevented
A deformity caused by polio cannot be reversed – it is there for life.
A child is fully protected against polio if he/she gets all prescribed vaccine doses at the correct ages.
Immunisation is free at all Public health facilities.
Immunisation is the most precious gift that we can give to our children.
Infographic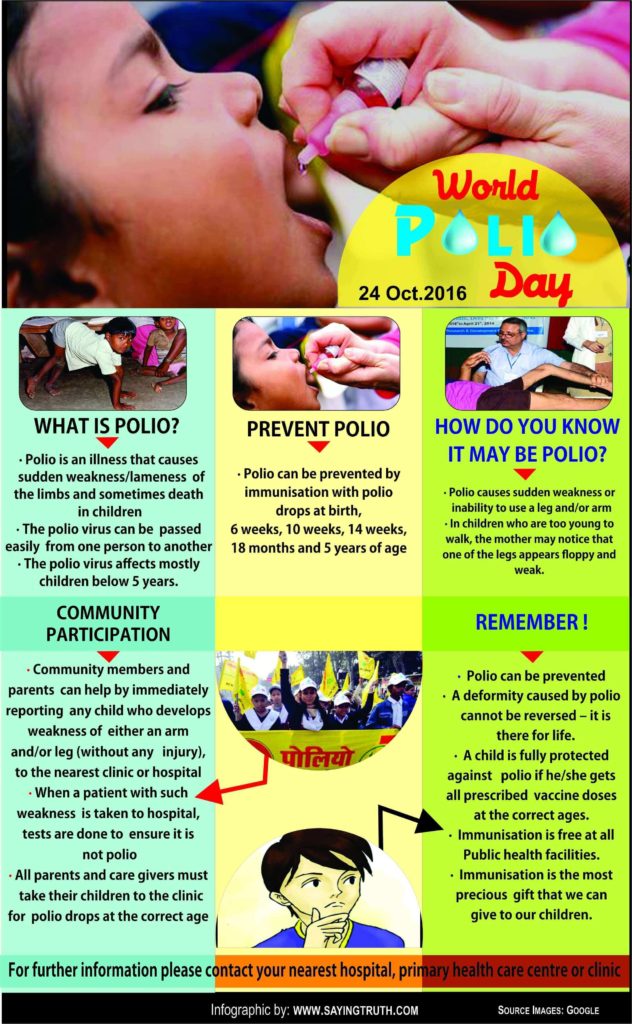 For further information please contact your nearest hospital, primary health care centre or clinic.
To get news on WhatsApp, just send 'Start' to 09729997710 via WhatsApp