Over 80% of Indian internet users are non-English speakers who aren't fluent in that language.
With over 400 million users, India is set to be one of the world's largest internet markets. As a result, there is a pressing need for content to be accessible to a maximum number of Indians.
In a welcome step to reach out to them, Google has announced an improvement in its translation services. The company says that the idea behind this move is to reduce barriers to the Internet for non-English speakers and make information more accessible for them.
Better translation
Google Translate is an extremely popular service which is used by millions of people everyday to read English content in their own languages. However, until now, the translation service was not perfect in terms of quality. As a result, there was a potential of some information getting lost or misunderstood when translated from English into regional languages.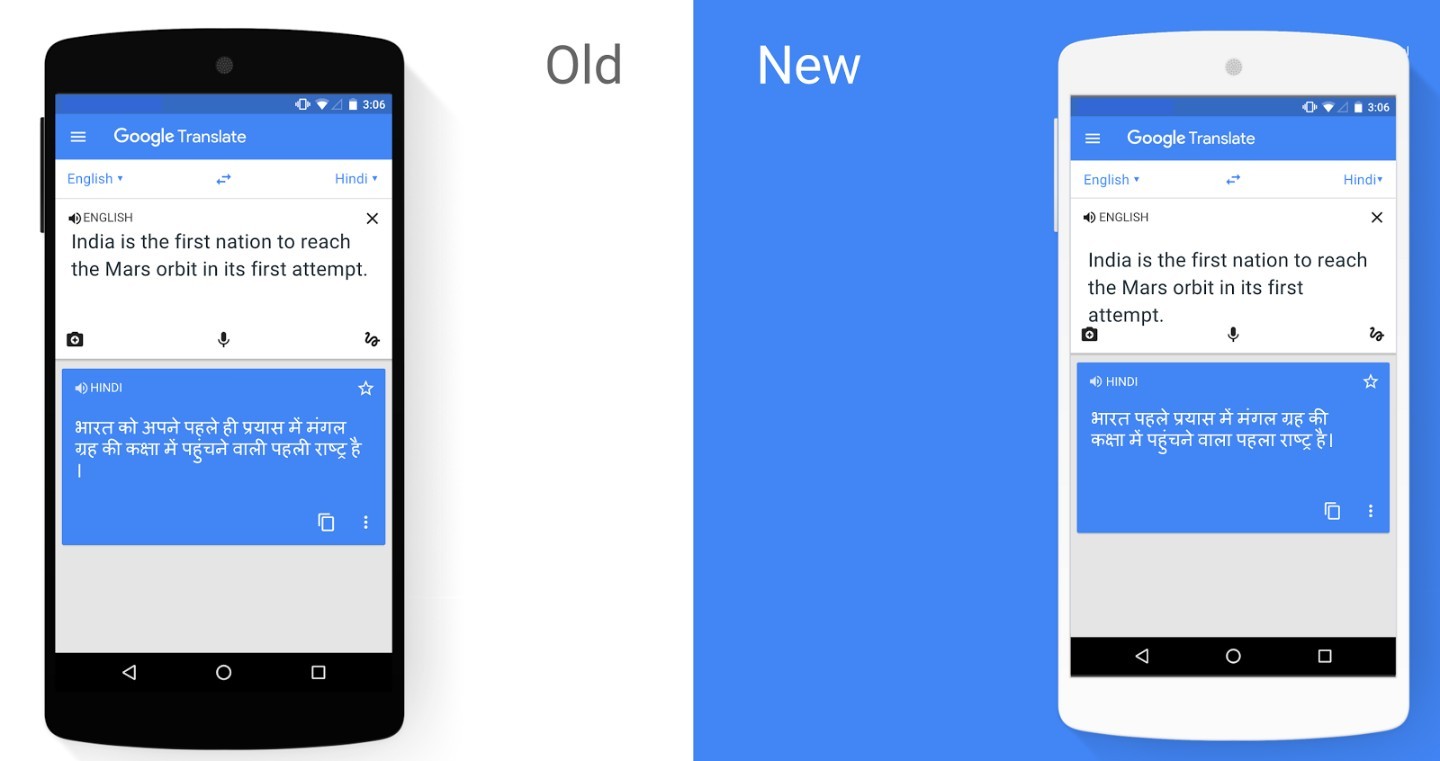 In order to improve this, Google has launched the Neural Machine Translation technology which makes the quality of translations vastly better. This new technology will be immediately intruded to the Google Translate service.
Previous versions of Google Translate would break an English sentence into smaller phrases and attempt to translate that. With differences in grammar and structure, the end translation wasn't always perfect or accurate. Neural Machine Translation has fixed this shortcoming as it translates complete sentences instead of reading them in shorter phrases. The technology employs artificial intelligence techniques to help the machine read a sentence and translate it like a real human being using proper grammar.
The result, therefore, is a more accurate and correct translation result.
Neural Machine Translation will be rolled out by Google for 9 popular Indian languages including Bengali, Hindi, Marathi, Telugu, Tamil, Malyalam, Punjabi, Gujarati, and Kannada.
Improved language functionality in Chrome
As part of this outreach to regional Indian audiences, Google has implemented the new Neural Machine Translation into its popular Chrome browser. The company estimates that over 150 million webpages are translated everyday using the Chrome browser.
With the application of this new technology, your Chrome browser can now translate entire web pages and their content into your selected regional languages with just one click of a button.
Type in your favorite language
Most computer keyboards are in English which makes it difficult for regional language speakers to use them. Google, therefore, has a virtual keyboard called Gboard which lets you type in an Indian language of your choice.
Until now 11 Indian languages were available on the Gboard. With this new outreach to Indian audiences, Google has added 11 more regional Indian languages to it. Moreover, it also offers a unique Hinglish Gboard which is catered towards people who switch between Hindi and English.
Basket of regional-language features
This latest update also adds a new and improved feature to Google Maps. Now, you can get reviews of places on Google Maps such as restaurants, cafes, businesses, malls etc. in your own regional language. This new update also allows you to set your Indian regional language of choice as your default language for Google Maps.
Along with that, Google has also introduced an online Hindi dictionary made by Rajpal & Sons into its online services. As a result, along with finding translations of words, you can also type in Hindi phonetically while using an English keyboard. Thus, in order to say "सचकहूँ", you can just type "Sach Kahoon" and the software will automatically change it into the Hindi script.
These new upgrades will indeed make Google and the internet more accessible to Indian users who do not speak English. We appreciate the effort of Google to reach out to a greater number of regional-language speakers rather than adopting the elitist English-only approach of most multinationals.
Download Latest Google Translate for Android
Download Latest Google Translate for iOS
Share This Article With Friends
To get news on WhatsApp free, just send 'Start' to 9729997710 via WhatsApp