We last heard a lot of hue and cry when a function on river Yamuna's flood plains brought out the army to build a bridge; the National Green Tribunal fretted and fumed with media noisily blaring its guts for attention.
A much, much larger extravaganza in Haryana happened recently, with its reverberations all around the world. Saying Truth brings you the story with pictures.
The occasion was the foundation day of Dera Sacha Sauda. While everyone agreed that they had never seen a larger gathering in their whole life, this function was manned purely by volunteers. Three hundred thousand to be precise. Yes, with more than a quarter of a million volunteers, the show passed on un uneventfully with the visitors seated across over 370 acres, with traffic in a snarl over 60 kms away.
Amongst the devout, were CEO's, fashionistas and leading lights of film industry- who confessed that they had never seen anything as grand in their entire lives.
Key Point of Saint Dr Gurmeet Ram Rahim Singh Ji Insan's
Address to His Fans and Followers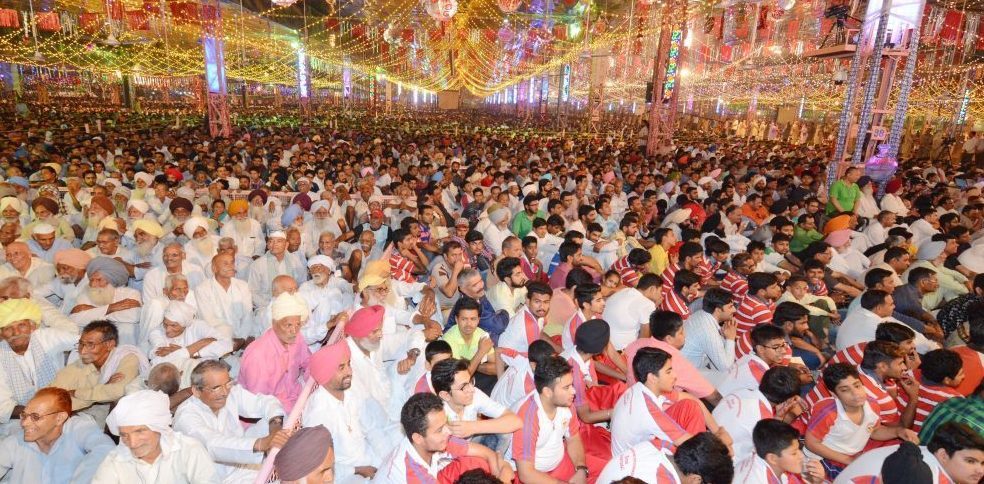 The Dera was established on 29th April, 1948 by the First Guru, Shah Mastana Ji Maharaj, who showed the simple path of God attainment, through meditation that is common to all religions.
The Power of Truth and Positivity attracts blessed souls to the True Spiritual congregation, despite the efforts of dark forces to disrupt/ stall proceedings.


Spirituality is not about theoretical knowledge but about constant Practice of meditation, taught by the True Master that leads to Spiritual emancipation.

Milk has Ghee in it, the earth has water below the surface, but until you use the right technique, you cannot obtain it. Likewise, God cannot be attained without learning meditation from the True Master.
The aim of a True Saint's life is to serve humanity selflessly and this will never change. This continues from the times of Maharaj Mastana Ji to the present times.


No human being should be labelled bad, only his bad habits and evil deeds deserves condemnation. If the habits go away, the same person is a good human being.
Our aim is to eradicate evils from society & also is to unite people with God, reform society caught in bad deeds and restore humanitarianism and self confidence. In order to achieve that with meditation, it is imperative to follow vegetarianism, giving up intoxicants and immoral behaviors.
The intoxication of God's name is the greatest high. It is everlasting and strengthens the body and soul.


All religions are unanimously against intoxicants, non vegetarianism and immorality. Science has accepted that meat causes Colonic and intestinal cancer, and the incidence is 99% higher amongst meat eaters.
In Mumbai, I was asked what herb I am using to stay young. It is the herb of God's name. It is the power of celibacy. Meditation is easier than even having food.


Man surrenders to instant gratification of the senses in drug, promiscuity and eating of intemperate foods- These ultimately ruin the body. The everlasting bliss of God's name strengthens with meditation, fills up the household with joys and helps the doers achieve worldly success.
We are eternally grateful for the grace and blessing of the previous Masters, Shah Mastana Ji Maharaj that the following has swelled so endlessly, and is committed to humanitarianism.