Technology has been a great boon for all of us in the 21st century. We can now be immediately connected to absolutely anyone in the world literally for free.
However, it has been noticed that as technology enables people to be more connected, we are somehow losing the quality pf relationships that we once enjoyed. We tend to pay more attention to whats happening on our phones and social media than to our loved ones around us.
Haven't we all had that annoying moment when we are excitedly telling someone about something and they are glued to their phones?
This daycare center in Texas, United States put out a strong message against this trend which has now gone viral.
Parents: put your phones away
A day care center where parents drop off their kids for the day before going to work posted this signboard outside their office:
The signboard asked parents to get off their phones when they come to pick up their children and talk to them about their day instead.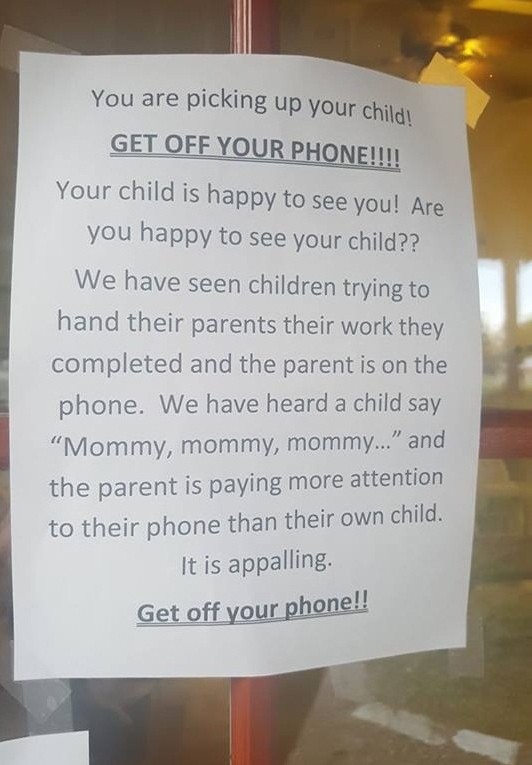 Source Image
The Houston-based day care center said that they had noticed numerous instance where parents would come to pick up their child and yet would be constantly glued to their phones. After spending the day away from them, the kids would have a lot of things to share with their parents about how their day was.
However, instead of communicating with their kids, the parents seemed to be more focussed on their phones. The day care center believes that this makes kids feel like their parents are not very happy to see them.
A parent made a photo of the sign outside the daycare and it has gone viral on social media and shared almost 1 million times.
From online to offline
In the 21st century, we are witnessing a sudden breakdown of human relationships. In fact, some studies have led to conclude that being glued to phones is a form of an addiction now.
Psychologists say that excessive use of our phones are leading to people losing their social interaction skills.
Take a look around you: your family, siblings and loved ones deserve your time. So the next time you are with them, put your phone aside and spend quality time with the ones you care about. Ask them about their day and tell them how you have been doing. We promise you that it is a lot more fulfilling and healthy than a little red notification on your mobile phone.
Share This Article With Friends
To get news on WhatsApp free, just send 'Start' to 9729997710 via WhatsApp