Lucknow: It is said that necessity is the mother of invention. Vivek Kumar Patel, a resident of Kaushambi in Uttar Pradesh, too used his enterprising spirit to come up with a novel idea. His experiments stand to change the life of every Indian who is frustrated with the low mileage of their motorbike.
The hard efforts put in by Vivek Kumar Patel over the past 17 years have resulted in a miracle of automobile engineering. After minor tinkering and modification with the engine, Vivek's bike now gives an average mileage of 153 km/litre. His technique has also been vetted and certified by the  Uttar Pradesh Council For Science and Technology (UPCST) and Motilal Nehru National Institute of Technology, Allahabad.
Vivek, whose income depends on farming, never thought that tinkering with the engine of his bike would someday change his life. Vivek says that right after his 12th standard examinations, he started working at a motorbike repair shop to observe the inner mechanisms of vehicles.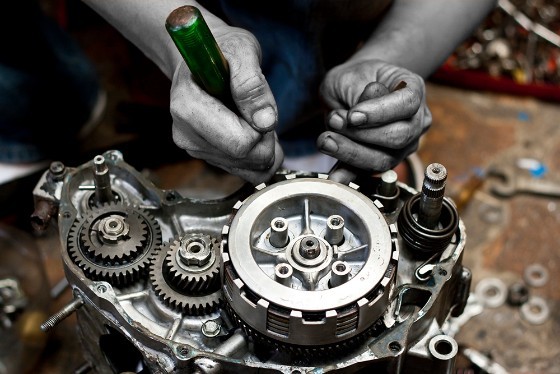 While he was learning to repair bikes, he started working on his pet project by running several experiments on engines. About 3 years ago, he made some modifications to the engine of his own motorbike. With the help of some friends, he was introduced to the UPCST which took his idea to a whole new level.
Increasing mileage by 1.5 times
Radhelal, Joint Director (Innovation) at the UPCST, said that Vivek managed to increase the mileage of his bike by tweaking the supply of petrol that goes into the engine. He has also worked on this project with students from BITS Pilani.
During these experiments, the engine of his bike showed a mileage that was 1.5 times to 2 times higher. Radhe lal said that regulating the amount of petrol that goes into the engine ensures that it doesn't heat up. As a result, the consumption of petrol goes down drastically. And whats more: this has absolutely no negative effect on the speed or pickup of the bike.
Novel idea receives approval
Sandeep Dwivedi, the innovation officer of UPCST, said that the council got Vivek's engine tested at the mechanical engineering department of the Motilal Nehru National Institute of Technology before approving it. The checks revealed that the technical foundation of this idea was absolutely robust. Vivek has now applied to get a patent registered for this idea.
Technique will help in the production of generators
Vivek's idea has already been registered as a startup by the technology incubation center at the Mata Vaishno Devi University in Katra. The project is being assisted by Aakash Shrivastav who has a B. Tech degree in mechanical engineering. Aakash said that they're planning to make a generator which uses less fuel under the guidance of Vivek and by using his technology. The startup project has already received a funding from the centre to the tune of Rs 75 lakhs.
Share This Article With Friends
Click to Download Saying Truth App