Despite the rising incidents of people drowning in canals while bathing, neither children nor their parents seem to be taking the threat of this danger seriously. The inaction of the police force as well as the state administration is even more shocking as they believe their responsibility ends with putting up boards warning people not to bathe in canals.
Disregard for the law
In the recent past, over 3 dozen people have lost their lives across Haryana while bathing in canals. Especially with the heat of summer getting unbearable, there have been increasing instances of young people not only bathing in canals but also performing several stunts.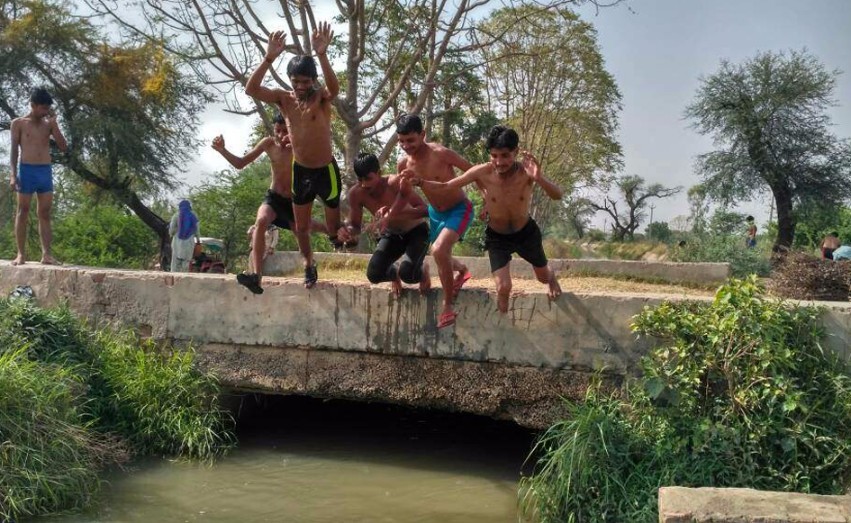 These kids neither seem to care about the order from the government and nor do they seem concerned about protecting their own life. As a result, there's news of someone drowning while bathing in canals from across India everyday.
We regularly see photos of kids jumping into canals that are 8-10 feet deep without caring about their own well-being or safety. This can only mean that neither they nor they parents are aware or seem to care about the consequences of indulging in such dangerous activities.
When questioned, a lot of these young people seem unaware of the law that prohibits bathing in canals. Some of them even went to the extent of mocking these laws out of their own over-confidence because they believe in some self-invincibility which will keep them safe.
It is evident that some of these kids have a scant regard for the rules but that seems to be because there's no one to implement them.
Lack of monitoring and implementation
The other main reason behind this menace is the absolute apathy exhibited by the police as well as the state authorities. The large boards next to canals proclaiming "danger" have now become somewhat of a joke. Most of these young kids either completely ignore the boards or even vandalize and tamper with them.
It seems to be a trend in our country where authorities make laws but refuse to put an effort into implementing them. Take public smoking laws for instance.
We see boards everywhere saying that smoking is an offense and violators will be fined and prosecuted. However, have you ever seen a government or municipal authority that's stationed at these public places to implement the law and fine the violators?
Its the same with this menace of people drowning while bathing in canals. Often, these are young children who are unaware of the law or aren't able to grasp or comprehend its seriousness.
As a result, it is important that the government appoints lifeguards and enforcement officers at major canals across the state to ensure that people are prohibited from bathing in canals which could be dangerous for their life.
Responsibility of parents and teachers
An equally important role is played by parents and teachers in educating the youth about the hazards of bathing in canals. Often, parents are busy in the house and do not seem to be aware of what their children are up to.
They should get stricter with ensuring that their children don't indulge in risky behavior by going to bathe in canals. A similar role must be played by teachers where they ought to stress upon the laws and the fact that bathing in canals is unsafe.
This growing dangerous trend can only be curbed through proper education and enforcement of the laws. The government needs to step in and ensure some action on a war-footing to ensure that such incidents are nipped in the bud immediately.
Input: Sach Kahoon
Share This Article With Friends
Click to Download Saying Truth App