Medical services and facilities are still pretty inadequate in several rural areas of our country. Many times, people are forced to use pushcarts in villages to ferry patients to a hospital owing to a lack of ambulances. Even when they are available, the cost of an ambulance is too high for poor people to afford it.
Last year, the story of Ramulu from Telangana made national headlines as he was forced to carry his wife's dead body in a pushcart since he couldn't afford an ambulance.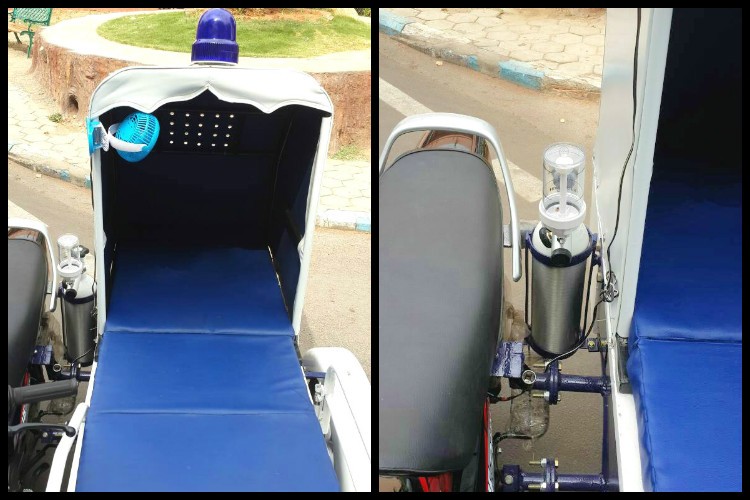 Source Image
This incident had a massive impact on Hyderabad resident Mohammed Shahzore Khan who owns a garage that modified motorbikes. He decided to invest his efforts into creating an ambulance that was well-equipped and yet affordable for millions of poor Indians in villages.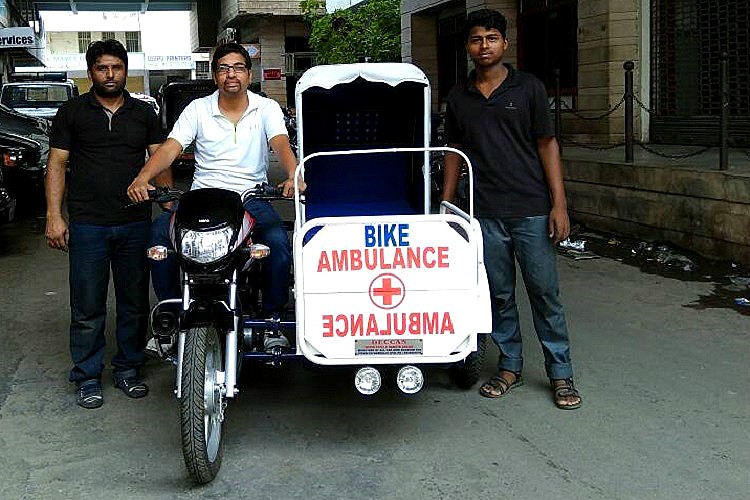 Source Image
His effort has borne fruit in the form of a motorcycle ambulance which he created in his garage. The ambulance is essentially a motorbike fitted with a sidecar and packs in all the facilities that a patient would need.
Mohammed designed the sidecar to be large enough for a patient to lie down inside it. The sidecar is fitted with a bed and has a fan overhead to help provide cool air.
Moreover, the motorbike ambulance also has stands which can be used for fitting an IV line or an oxygen cylinder.
Ina remarkable feat of modification, Mohammed's motorbike ambulance also contains a space at a bottom where a foldable stretcher can be kept in order to ferry a patient from the ambulance to the hospital.
Moreover, as it is a motorbike, Mohammed's ambulance can navigate heavy traffic much more easily compared to a large van.
Working at his garage on the design since April, it took Mohammed 35 days to design this motorbike ambulance. And whats more: it cost him just Rs 1 lakh to create this ambulance of which Rs 65,000 was just the cost of the sidecar.
Encouraged by the success of his invention, Mohammed and his team are now putting efforts to find a way to further reduce the cost of this motorbike ambulance.
It is the creativity of Indians like Mohammed and their desire to do selfless service to humanity which has the potential to transform the life of millions around our country.
This motorbike ambulance is affordable and can be used by smaller hospitals in rural areas without having to invest a lot of money. We hope that this invention is adopted across India in order to provide essential medical facilities to those that need them the most.
Motorbike ambulances introduces in Maharashtra
Government of Maha. set up 10 motorbike ambulances equipped with primary facilities to provide swift assistance to patients, as part of a pilot project in Mumbai. These will be available through 108 free helpline. In future, it will also be deployed with paramedics who will stabilize the patient until the four-wheeler ambulance arrives.
Share This Article With Friends
Click to Download Saying Truth App