School time is a very crucial period for education, growth, training and progress of our children. They learn about good habits, develop skills and distinguished experience which determinestheir future way of living. The aim of schooling is not only simple teaching but also to improve the proficiency of students in every possible field.
The prominent and appreciable qualities in Japanese schools are being elaborated:
The students are not allowed to take examination till the age of 10-years.
They gain knowledge to understand that education helps in building positive attitude, thoughts and actions. They learn how to develop strength in body and mind and also, how to practice self-control in different situations. Amiable behavior and respect for people are also a part of learning.
The students are guided to take the responsibility of cleaning on their own so that they learn to become self-dependent.
They are taught to take care of animals and plants.
The children are told to paint their classrooms to maintain the task of cleaning and renovation. This becomes an enormous tool of good constructive habit.
Teachers devote their time with the students to keep the surroundings neat and clean, so, that the pollution free environment does not spread diseases. This step encourages mutual respect. Collective working with classmates is not simply the action of cleaning but trains them about coordination with each other.
Hence, the Japanese schools do not hire janitors and thus save a lot of expenditure.
Long term benefits to Parents and Society: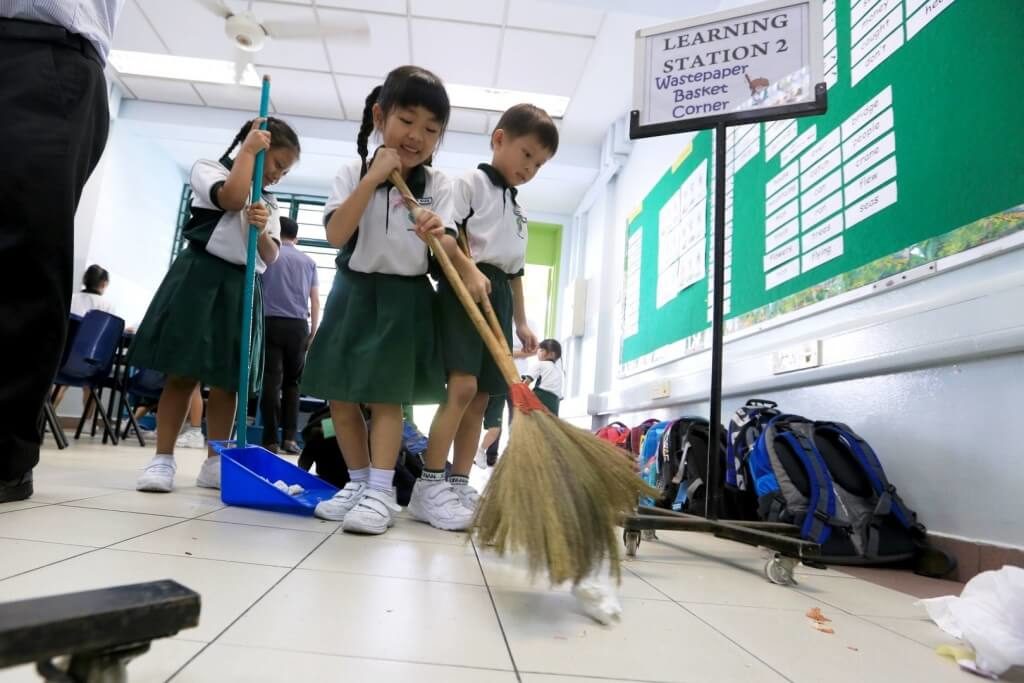 Source Image
School education does not simply mean to acquire any certificate of qualification that can be shown as an achievement of intelligence, but their children must secure the status of excellent qualities of righteous thoughts, actions, skill, experience and social service.
Parents expect that their children should become responsible, respectful and justice oriented. They ought to acquire the principles of humanity in addition to the strength of knowledge, intelligence and wisdom.
It is not necessary that they only learn how to clean their surrounding, but they should also learn how to become an ideal citizen. Final results of conformity of truth are more important than thoughts and perseverance.
To get news on WhatsApp, just send 'Start' to 09729997710 via WhatsApp