Sirsa (19th August, 2017) : The Dera Sacha Sauda is playing an important role in fulfilling important humanitarian and spiritual activities under the inspiration of Revered Saint Dr. Gurmeet Ram Rahim Singh Ji Insan. This statement was made by Bajrang Das Garg who is the Chairman of the Akhil Bhartiya Vyapar Mandal and the State President of the Haryana Vyapar Mandal.
Bajrang Das Garg said that the Vyapar Mandal will always stand by and support the Revered Saint who tireless work towards humanitarian and spiritual causes.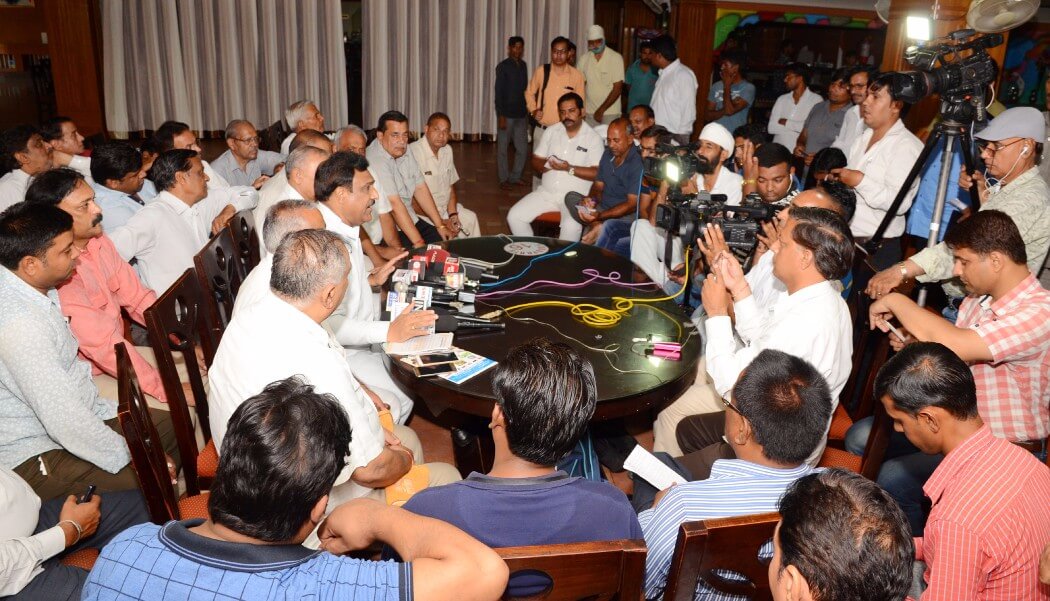 He made these comments while addressing the media during a visit to the Dera Sacha Sauda today along with his associates.
Mr. Garg said that crores of people across India are associated with the Dera Sacha Sauda. He also said that Revered Saint Dr. Gurmeet Ram Rahim Singh Ji Insan has made an immense contribution towards the benefit and progress of humanity.
Mr. Garg also praised the numerous humanitarian activities of the Dera Sacha Sauda. He said that volunteers of the spiritual organization have always risen to the occasion and contributed tirelessly for numerous causes such as relief work during natural calamities, blood donation, environmental protection, education, and many others.
He also commended the efforts of the Dera Sacha Sauda in the empowerment of underprivileged girls and also praised the work done by volunteers in cleaning up cities and towns around India.
Mr. Garg said that his primary focus is to support such individuals and organizations that are tirelessly working towards improving our nation and society. on this occasion
President District Vyapar Mandal : Mr. Hira Lal Sharma,
Vice President: Mr. Roshan Lal Goyal,
Mr Rajkaran Bhatia,
State Custodian : Pawan Garg from Hissar
District Custodian : Krishan Gupta,
District General Secretary : Jai Prakash Bholusaria
District Secretary : Kishan Makani,
District Promotion Secretary : Kalu Ram Sharma
President District Bhiwani : Naresh Garg
District Vice President : Shrawan Gupta
President Aggarwal Sabha : Anil Saraf
General Secretary : Anjani Kanodia
Vice President: Ashwani Bansal
Whole Sale Sugar and Jaggery Association : Subhash Goyal
President Shoes Merchant Association : Som Sethi
President Aggarwal Sabha Bhattu : Brahma Nand Goyal
National General Secretary, Vasya Samaj : Krishan Kumar Kharian
Youth President Fatehabad : Vinay Bansal
President Salasar Dham Temple, Sirsa : Gopal Saraf
Vice President Aggarwal : Vishnu Singla
Incharge Ronak Group Haryana : Sumit Kumar
President Ellenabad :Subhash Goyal
President Tohana : Rajinder Goyal
The others delegates were present in a large number.