With an aim to spread message of 'Clean Ganga' 11-year-old Shraddha Shukla, a prodigious endurance swimmer from Uttar Pradesh, took up her biggest challenge on a humid Sunday morning. She plans to swim in the monsoon-fed, swollen Ganga from her hometown Kanpur to temple town Varanasi.
The Plan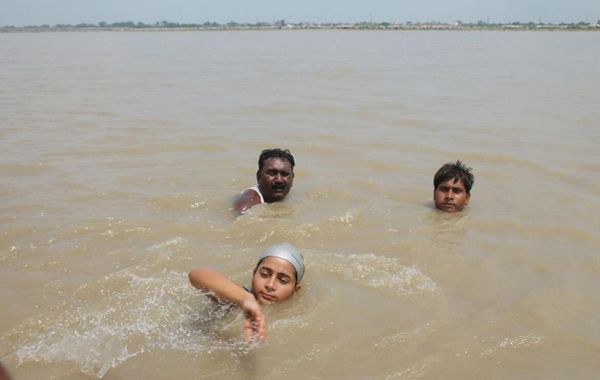 Source Image
She aims to cover 570 km in 10 days. Furthermore, she will only take refreshment breaks and washroom breaks. Identically, such a distance is equivalent to 13 Olympic marathons, a staggering 42.195 km on land. Moreover, she will swim for about 60 km each day with breaks every four to five hours, HT reported.
Also Read: This woman from Pakistan is turning rubbish into homes
Shradhha said, "I am not nervous. I am excited and confident of completing the challenge." With this intention, she dived in a blue swimsuit with floral patterns into the Ganga at historic Massacre ghat of Kanpur.
As she joined four guard divers in the murky water, she said, "I am eyeing the national record."
She belongs from Kanpur's Cantonment area and has been swimming since the age of one. Her father guider has her as a coach in her journey. He and the divers will be accompanying her on a traditional boat through the journey.
Interestingly, she is popularly known as Jalpari for her achievements. Also, an underwater steel net will protect the girl on her journey. Furthermore, she plans to not swim after 7:30 pm and resume swimming preferably at 5 am.
Also Read: Swachh Bharat Abhiyaan Gets a Push with this viral One
The Journey
Shraddha had adapted quite well to swimming after her grandfather Munnu Lal Shukla brought her to the Ganga at age of one. Her grandfather taught her to swim with slow increase in the distance. She dream to go to Olympics and swim through the English Channel after this feat.
To get news on WhatsApp, just send 'Start' to 097 29997710 via WhatsApp