Over the past couple of years, Saint Dr. Gurmeet Ram Rahim Singh Ji Insan Aka MSG has become a household name across India. His back-to-back blockbuster movies have not just entertained people but have also started a wonderful trend of sending a message of social change.
Indeed, he is a person who has taken up the mission of cleaning people's hearts from evils such as addiction. While doing so, Saint has also been on a steadfast mission to clean up India since 2011.
Saint Dr MSG said that it hurt him when foreigners would travel to India, see the rubbish on the streets and term it as a "dirty country". With the message of "Ho Prithvi Saaf, Mitey Rog Abhishap," Saint started a movement which has now been taken to every corner of India by the volunteers of the Dera Sacha Sauda.
Cleaning hearts, cleaning India
This noble mission started with the philosophy of Saint who said that when the earth is clean, diseases and evil will surely get wiped away. Therefore, in the year 2011, Saint Dr. Gurmeet Ram Rahim Singh Ji Insan picked up a broom with his own hands and waved a green flag signaling a mighty campaign that involved cleaning up every corner of India.
And this caravan has only gotten stronger over the years. Inspired by the message of Saint, volunteers of the Dera Sacha Sauda have successfully gotten together and conducted over 32 mega-clean up drives in different parts of India.
As honorable Prime Minister Narendra Modi outlined his vision of Swachh Bharat, this campaign has gathered even more momentum.
Over the years, the Dera Sacha Sauda has launched clean-up campaigns in places including..
| | | | |
| --- | --- | --- | --- |
| New Delhi | Puri | Faridabad | Sawai Madhopur |
| Jaipur | Hissar | Narela | Shopur |
| Bikaner | Rishikesh | Karnal | Tonk |
| Gurgaon | Gangaji | Kaithal | Mumbai |
| Sirsa | Haridwar | Noida | Panipat |
| Jodhpur | Ajmer | Sikar | Jaipur |
| Kota | Pushkar | Alwar | Karnal |
| Hoshangabad | Rohtak | Dausa |  Delhi |
And not just India: Dera Sacha Sauda volunteers living abroad have successfully conducted cleanliness campaigns in places such as the UK and Canada.
Collective magic
These clean up campaigns are a wonderful glimpse of a large number of dedicated people coming together. On an average, most clean up initiatives by the Dera Sacha Sauda see a turnout of 3 to 5 lakh people in a single location.
Subsequent to this, they pick up cleaning implements and start making their way to all the dirty neighborhoods in that town.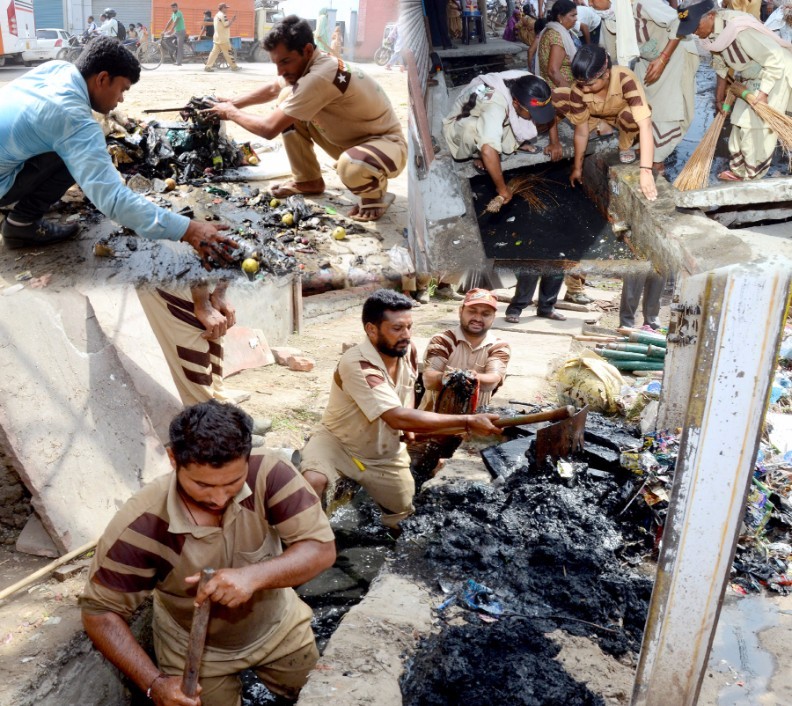 Working in a disciplined and organized manner, these volunteers get down on the ground and manage to clean up the entire place in a matter of few hours.
The main aim behind the cleanliness drives is to inspire people across the country to participate towards making India clean. It is amazing to see that the volunteers who participate during these clean-up drives include prominent citizens such as doctors, lawyers, and engineers.
And in a spirit of collective dedication and service to humanity, these volunteers roll up their sleeves and put their hands in the dirt to ensure that the place is sparklingly clean.
Also Read: Clean Ganga remains a distant dream; NGT raps Govt. Agencies for their failure
On the silver screen
In the movie Jattu Engineer, Saint Dr. Gurmeet Ram Rahim Singh Ji Insan shows the transformation of a backward village into a developed one through the efforts of the villagers.
The campaign of Swacch Bharat is prominently showed in the film as Saint appeals to sarpanches and villagers across India to keep their surroundings clean.
Conclusion
These numbers show that the movement is getting stronger around India as more people get inspired by the message of Saint to clean up India. It is, therefore, the duty of every proud Indian to participate in this endeavor for their motherland.
We therefore appeal to all of you for contributing some of your time towards cleaning up your surroundings and neighborhood. If 1.2 billion of us decide to lend a hand, cleaning up our country is an absolutely easy task. However, our responsibility does not end with just cleaning our surroundings.
We ought to inculcate the habit of cleanliness and hygiene within us and our families else in order to ensure that our surroundings stay clean forever.
Share This Article With Friends
To get news on WhatsApp free, just send 'Start' to 9729997710 via WhatsApp