The number of fake accounts and imposters on social media are increasing every day. It's unbelievable how such fake accounts come out and offer things boldly. What's funnier is that people even fall for it. A similar incident happened when an imposter account of The Base Shoppng offered $5000 as cash prize.
Here's the whole story: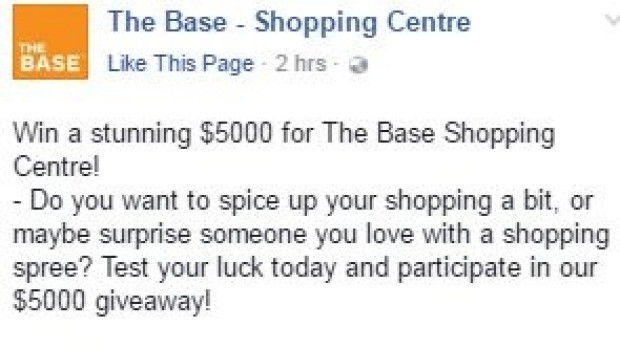 Source Image
An imposter account of The Base Shopping Centre is offering a $5000 prize and is getting viral on social media. This post appeared on Tuesday by an identical FB page of the Base Shopping Centre. This hoax giveaway was shared 8300 times in just 3 hours after it was uploaded. The real page of The Base Shopping Centre warned the people of it being a hoax when they found about the imposter.
Also Read: Frauds Pretending To Be An IT Startup Duped People Of 1.5 Crore
The post said "We are aware of an imposter account circulating on Facebook claiming to be The Base Shopping Centre and are working to have it removed ASAP. We advise anyone who sees this to not click on links or provide personal details. Thanks for your patience while we work to have this account removed." stuff reported.
It's silly how people are still sharing this post and are falling prey to this fake account.
To get news on WhatsApp, just send 'Start' to 09729997710 via WhatsApp