Fulbright distinguished awards are one of a kind awards in teaching programs, sponsored by the `bureau of educational and cultural affairs, US department of State. It is a sort of teachers exchange program where international teachers are brought to USA and the local teachers are sent to international countries for a semester. In this scholarship, 20 teachers are selected from all over the world who travel to USA.
Eligibility
You need to have bachelor degree or must have 5 years teaching experience. Also, you need to spend at least 50% of your in class room teaching. Clink the link given below to know all criteria.
Also Read: Top Fellowship Programmes for Indian Youth
Participating countries
The program is open to teachers from India, Finland, Botswana, Greece, Israel, Mexico, Morocco, Netherlands, New Zealand, Palestinian Territories, Singapore, Taiwan, United Kingdom and Vietnam.
Objective
Their main objective is to build teachers' and students' global competence by sharing of best educational practices internationally.
Deadline
Apply till…. October 12, 2016
To Apply & more details Visit
Website (USIEF): http://www.usief.org.in/Distinguished-Fulbright-Awards-Teaching-Program.aspx
Contact
For any queries, you can write to Dr. Gayatri Singhal at gayatri@usief.org.in or call at 011-42090949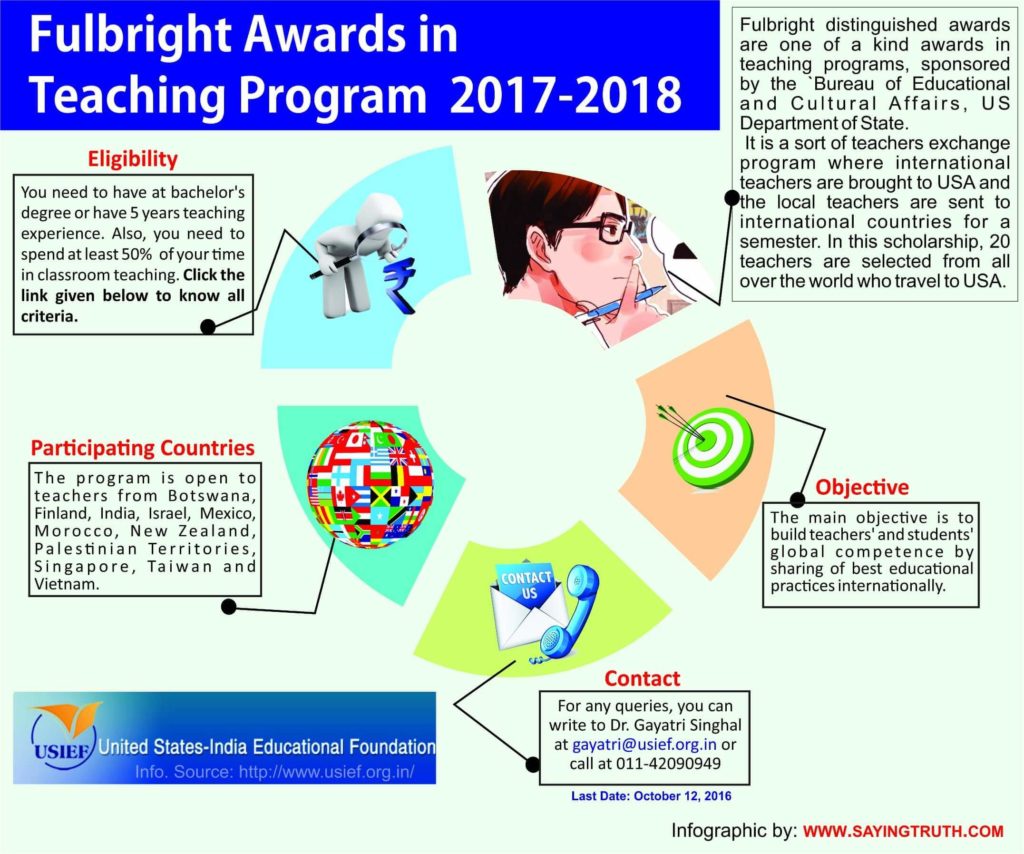 To get news on WhatsApp, type 'Start' and send us at 09729997710