Jabir Karat is a student, a ragpicker and a social entrepreneur. Born in a small village called Puthuppadi in Kerala, he grew up an ordinary boy and finished high school at a government school.
He got a scholarship and studied at Zakir Husain Delhi College in Delhi. Then he decided to move to Delhi to study history and his life took an interesting turn at that stage. He felt it much tough to adjust in the challenging environment being from a village.
Jabir wished to do something more actionable. Around this time, he got selected for the Gandhi Fellowship. He credits this two-year residential programme for changing his life.
Inspirational Action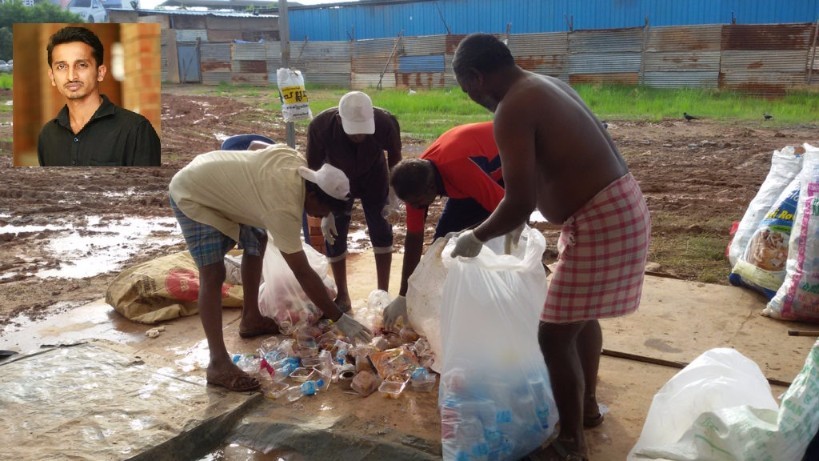 Source Image
This experience inspired him for embarking on a meaningful career. He was ready to go back to Kerala for starting a social enterprise after spending seven years away from his home state.
Also Read: 30th Cleanliness Campaign by Dera Sacha Sauda Volunteers in Jaipur
In search of a sustainable business idea, Jabir started research for the biggest problems India would face in the next 10 years. He laid his focus towards the increasing problem of waste management.
Jabir went to Coimbatore for three months for training under Vellore Srinivasan, Project Director of Indian Green Service, a solid and liquid resource management company in order to get a firm grasp on the subject.
After these three months, he was ready to start a new business. He founded Green Worms in the small town of Thamarassery in Kozhikode district. A one-acre plot for waste segregation was leased out and a composting unit was also set up.
Furthermore, Jabir convinced the shopkeepers for disposing their waste responsibly. The process waste management was started by his three-member team. Green Worms charged them a small service fee for it, which not lasted for long. Most shopkeepers realised that it was irresponsible to dump garbage somewhere and forgetting about it.
Also Read: San Francisco Goes Towards Ecological Sustainability by Banning Plastic Bottles
Now the Green Worms team conducts waste literacy programmes in schools. They teach children about the various types of waste, recycling, segregation, composting, etc. On a 'zero waste' principle, the team conducts weddings and other functions.
They provide recyclable plates for such functions that are made from ceramic, steel, etc. They also provide plates and glasses made from arecanut as disposables. Green Worms also disposes of the waste at these events. They take the organic waste to the processing unit and convert it into compost.
With time, their work has gained a lot of traction. They are called for tackling the waste generated at events.
To get news on WhatsApp, just send 'Start' to 09729997710 via WhatsApp