The biggest dilemma that cancer patients have to face apart from agonizing pain and suffering is the complete loss of hair. It is even more difficult for women especially in countries like India, where a woman without hair on her head has to come across people who give her strange looks.
There are a lot of NGOs and groups that are working hard in this area. They often provide moral as well as materialistic support in form of wigs to cancer patients to bring back hope in their life. One such organization, Vanitha Kathakali Sangham in Thripunithura organized a Hair Donation Camp.
The camp was organized with the support of Thrissur-based hair bank that mainly deals in the collection of human hair to make wigs for cancer patients. Miracle Charitable Association pays the cost of these wigs.
Age is not a limit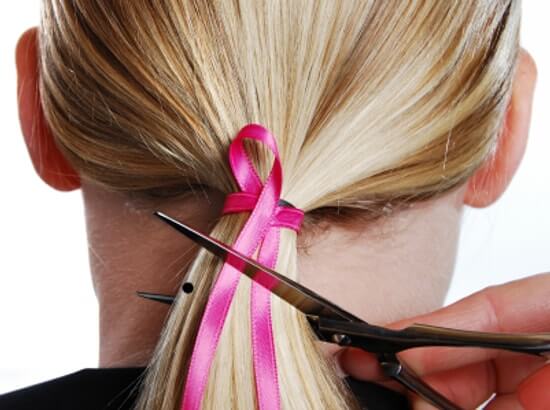 Source Image
10-year-old Purnima donated a 10-inch long hair for the cause while 69-year-old Gomathi Balasubramaniam donated 9-inch long hair. These two were the youngest and the oldest to donate hair while being present in the camp.
However, the 76-year old Radhika Menon sent her tresses for the donation via mail. Amazingly, Twenty-four-year-old Archana Venugopal who suffers from cerebral palsy also donated hair for the cause. A total of 46 people donated tresses of hair during the camp which was really encouraging for the group.
Also Read:  Live your life in some other body- Donate organs and save life!!!
Parvathy Menon, senior Kathakali artist was present at the camp. She praised the organization and said that the thoughts of the people present at the camp are converted into actions.
Pramila Vijayan who is the president of Vanitha Sangham opened her house for the camp. An official from Miracle Hair Bank said that such camps are not common and they have to rely on beauty parlors to get human hair and prepare wigs.
Generally, to organize such camps a minimum strength of 30 people is necessary and the minimum length of tresses for the donation should be 7-inches. The whole process of wig making goes from the collection of hair, cleaning and disinfecting the hair and finally making wigs of different shapes and sizes.
To get news on WhatsApp, just send 'Start' to 09729997710 via WhatsApp