It is rightly said that where there is a will, there is a way. This phrase fits perfectly on the national engineering competition winner in Australia. The 15-year-old boy Sabiqul Hoque came up with an interesting solution for the water sprinkler system. He is studying in the James Ruse Agricultural High.
The competition that he has won was organized by "Made By Me" which is a collaboration UNSW and seven other top universities along with Engineers Australia to promote engineering as an attractive career for young men and women.
While talking about the sprinkler, Sabiqul told that he used to see the sprinkler system in the garden which is timer based and often waters the plant even if it is not needed. That made him thinking that there should be an alternative to doing the job without wasting or over watering the plants.
When he researched about the sprinklers that are available in the market, he was disappointed. It was a shock for him to learn that the so-called high-end most expensive water sprinklers which may cost almost near to USD 350, have only two sensors and are capable of detecting soil moisture and rain intensity.
Sabiqul started his project with a mission in mind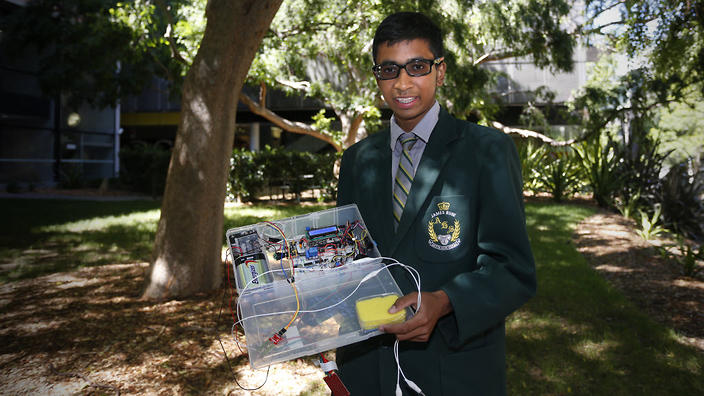 Source Image
Sabiqul decided to take the matter into his own hands and run his teen-brain to find the solution. He discussed the project with his professor and started working on the sprinkler.
He made sure to include sensors to measure temperature, relative humidity, soil moisture, rain intensity, light intensity and wind speed so that the plant can grow in the best possible environment without any shortage of water.
For over two months Sabiqul worked on a number of hands drawn circuit board and worked with Arduino micro-controller that is an open source computer platform with easy to use hardware and software.
The system was suggested by his agriculture teacher. The micro-controller allowed the sprinkler to switch on and off automatically after checking all the variables. Over the next few months, he tested the device number of times to ensure that it is working perfectly in every condition.
To get news on WhatsApp, just send 'Start' to 09729997710 via WhatsApp