Instead of buying Lyf smartphone for Reliance Jio SIMs which can be used as Wi-Fi hotspots for primary devices, you can now get this done in a better way by getting yourself a Reliance JioFi 2 Wi-Fi hub. Reports say that the free Jio SIM makes it a great hotspot option.
Reliance JioFi 2 Wi-Fi hub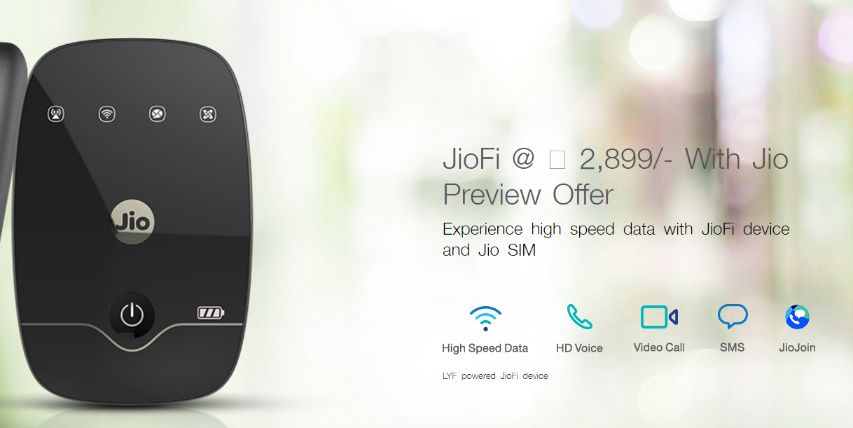 Source Image
This device comes with a free Jio 4G SIM that requires proper documentation like any other SIM. Without it, it will remain a mere Wi-Fi hub. Costing 2899 with a free sim, the device has a 2300mAh battery. The device also comes along with a charger and USB cable.
Also Read: Now Microsoft Will Pay You For Using Its Windows 10 Browser Edge
The Set Up
As you switch on the JioFi 2, it will create a Wi-Fi signal of its own. The device comes with a password printed below the battery slot. You can log in to this network from any device and start browsing and later go to the admin panel and change the password.
Speed

Speed is what people look for these days. According to The Indian Express, a speed test concluded that the device provides a speed of over 30Mbps download speeds at most locations. Variations may come depending on the on the location, but is sure not to be anywhere below 15Mbps.
Battery

With a fair 2300 mAh battery which will undoubtedly last an entire day with active usage, this device has a LED that is designed to give you an idea of the battery levels. Moreover, you can charge it up within an hour.
Also Read: Now Microsoft Will Pay You For Using Its Windows 10 Browser Edge
Conclusion
For those who are looking forward to some high-speed data connectivity, the JioFi seems to be a sound investment when it comes to performance. The charges for data though have not been specified till now.
To get news on WhatsApp, just send 'Start' to 09729997710 via WhatsApp