In the last few decades, we have used so many toxic chemicals in order to get rid of the weeds, that it has caused more damage to the environment than doing any good. There was a time when natural means of clearing weeds was more popular but it was time-consuming.
However, the time has now started taking a turn to natural means. Roswell's Old Mill Park in Roswell, Georgia has learned a lesson from the past experiences and now hired a bunch of goats to clear the weed from the trails of kudzu.
The overall benefits of hiring goats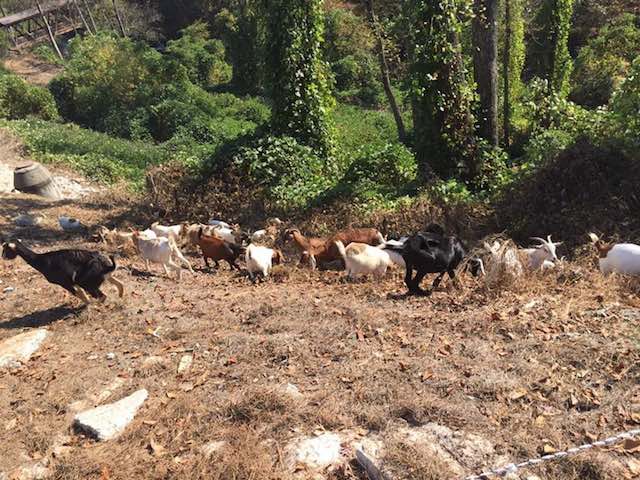 Source Image
In terms of finances, the typical extermination method costs the park around USD 10000. However, hiring goats via a local company by the name Get your Goat costs only USD 1300. Apart from the financial benefits, by using goats to get rid of the weeds, the damage to the environment and the landscape has been reduced to zero percent.
The park officials are happy with the results. Since a goat can eat up to 12 pounds of foliage in one day, these employees can clear the whole track in less than 10 days. One of the park officials said that the task of removing weeds required heavy machinery and a lot of toxic chemicals.
Now, as they are using goats, the vegetation and landscape of the park will not face any harm. Also, it is a lot of fun to see these little employees munching on the weeds and enjoying their work whole day.
The steps taken by the park are welcomed by the residents of the Georgia. They are appreciating the efforts to save the environment. In the past few years, the emphasis on organic and natural methods of getting rid of weeds and clearing tracks in parks has increased.
It is very important for the government organizations as well as private establishments to reduce the use of toxic chemicals so that the damage that we have already done can be reversed in the next few years. Hopefully, this practice will encourage other parks to go for similar services as well.
To get news on WhatsApp, just send 'Start' to 09729997710 via WhatsApp