Aadhaar or UID is a biometric identity card issued by the Government of India. Under this, every resident of the country has a unique 12-digit number which is linked to their biometric markers such as fingerprints and retina scans. Thanks to Aadhar, it has become much more efficient for the government to provide essential services to Indians in a timely manner. Also, Aadhaar helps cuts down on corruption and ensures that government benefits reach only those that they are meant for.
In order to communicate the benefits of Aadhar to the people, the UID Authority of India has started a contest called #AadhaarMakesItEasy. Under this contest, people are invited to submit their stories of how Aadhar has made life easier and brought many benefits to them.
The UIDAI has also announced that the top 5 stories will win cash prizes of Rs 20,000 while the next 20 best stories will be awarded Rs 2000 each.
Now, we are sure that you're all interested and excited about this content. The question on your mind must be: how to participate? Don't worry. Below are the rules of the contest and how to go about submitting your entry and winning this grand prize:
Rules to Apply for competition:
For participating in this contest, you need to have an Aadhar card.
Your Aadhaar card needs to be linked to your bank account number since the prize money will be credited to your account directly.
You need to write a story in either English/Hindi which talks about how Aadhaar has made your life and that of others much easier and convenient.
You can use real-life examples and data to further enhance your story if you wish. You're also allowed to use photographs and infographics but the condition is that they must have been clicked or designed by you.
The word limit for your story is between 200 to 500 words.
Your entry can be submitted either as a Microsoft Word document (.doc), a PDF file or as a link to your blog post on the internet.
The last date for submitting your entries is 8th August, 2017.
The results for this contest along with the names of the winners will be announced by 7th September, 2017 on all of UIDAI's social media channels.
How to apply or Guidelines:
First of all, ensure that your Aadhar is linked to you bank account. If it isnt, you need to do that online by logging in to your net banking or phone banking app.
Write your story in a suitable format. We would recommend using Microsoft Word and converting that into a PDF file. Else, there's always a chance that the file won't open and your entry will be invalid.
If you're writing the story on your personal blog, make sure you copy the link and double-check that it works properly
Now you have two ways of submitting your entry:

(a) Using social media or (b) Using email.

For submitting entries on social media, you can use both Facebook or Twitter.
On Facebook, you can send a private message to UID with your attached story on this page: https://www.facebook.com/AadhaarOfficial/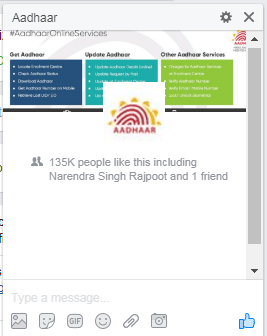 For entries submitted on Twitter, you need to send a DM with your attached file to the Aadhar handle on this ID: https://twitter.com/UIDAI
6. For submitting entries via email, just attach the file with the story and mail it to this email address:       media.division@uidai.net.in
For all the detailed rules and regulations, please check this link:
https://www.facebook.com/notes/aadhaar/aadhaarmakesiteasy/1974965529454011/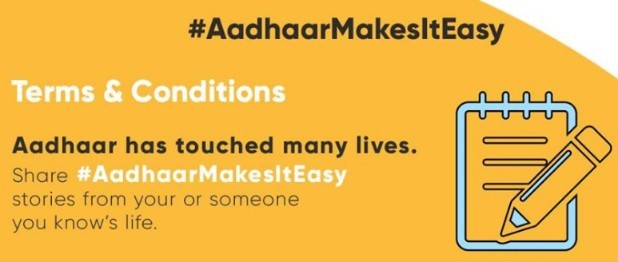 What are you waiting for? Get writing your Aadhaar stories quickly and grab this amazing cash prize. We wish all of you the best of luck!
Share This Article With Friends
Click to Download Saying Truth App