Blood forms the basis of life. If a person does not get oxygen, he is sure to die. However, if the blood production or circulation of the body deteriorates, a person faces a very painful death.
This lifeline has been given to everyone but in situations like accidents or illnesses, people end up losing their lives due to a lack of a few units of blood.
Setting an example before the whole world, the multi-religious Dera Sacha Sauda has donated 4,63,162 units or 2,08,422 litres of blood from 2013 till date.
These numbers do not include the blood donations organised by followers in their respective blocks and villages.
Under the pious guidance of the Revered Saint Dr. Gurmeet Ram Rahim Singh Insan, it has also been inspiring followers around the world to regularly donate blood.
The blood donated by them has provided a new lease of life to lakhs of people including armed forces personnel, reporters, police officials, thalassemia patients, and AIDS patients.
Three Guinness World Records for blood donation
Of the 17 world records held by the Dera Sacha Sauda, 3 pertain to blood donation. It has donated 4,53,162 units of blood till date.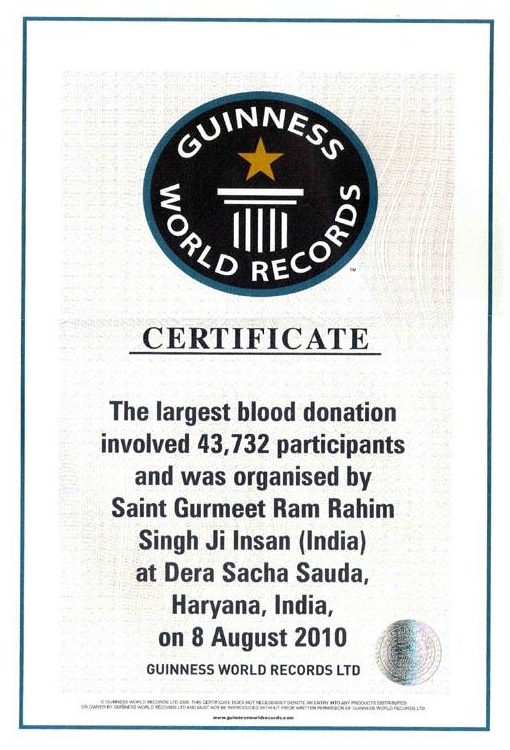 Additionally, it holds the recognition for facilitating the donation of 43,732 units of blood in a single day.
Also Read: Volunteers came forward with a mission of educating underprivileged children
On 12th April, 2014, in New Delhi, the massive blood donation drive collected 77,777 units of blood.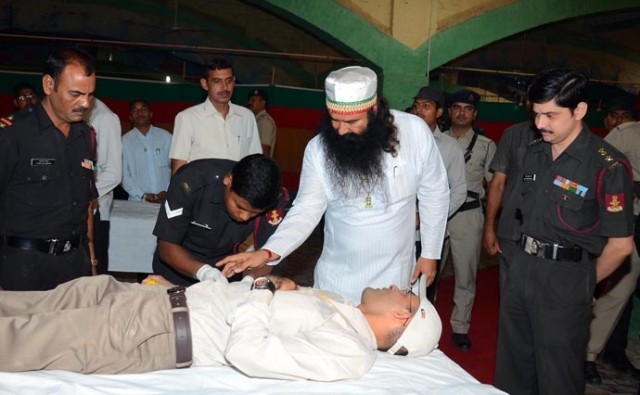 It is worth a mention that about 90 percent of the blood requirements of the Indian Armed Forces are met by the Dera Sacha Sauda.
Every month, the Transfusion Centre of the Indian Army collect the required units of blood from the ashram.
Red Cross Award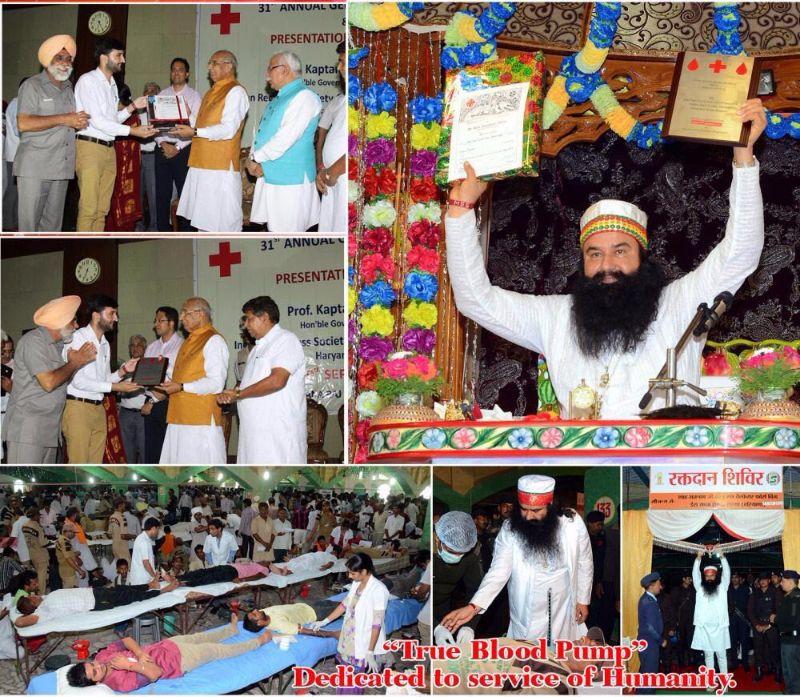 Source Image Twitter
A new feather has been added to the welfare works done by the Dera Sacha Sauda under the inspiration and leadership of Dr. Saint Gurmeet Ram Rahim Singh Ji Insan. Dr MSG has now been awarded the citation from Red Cross in September 2016 via Governor & CM of Haryana for his guidance in the commendable welfare work done by the Dera Sacha Sauda as the largest blood donor agency in the world.
It is notable that 4,51,000 blood units has been donated so far and still counting.
There is no dearth of exemplary dedication to humanity
Dera Sacha Sauda has numerous examples of people wholeheartedly donating blood in happy as well as difficult times.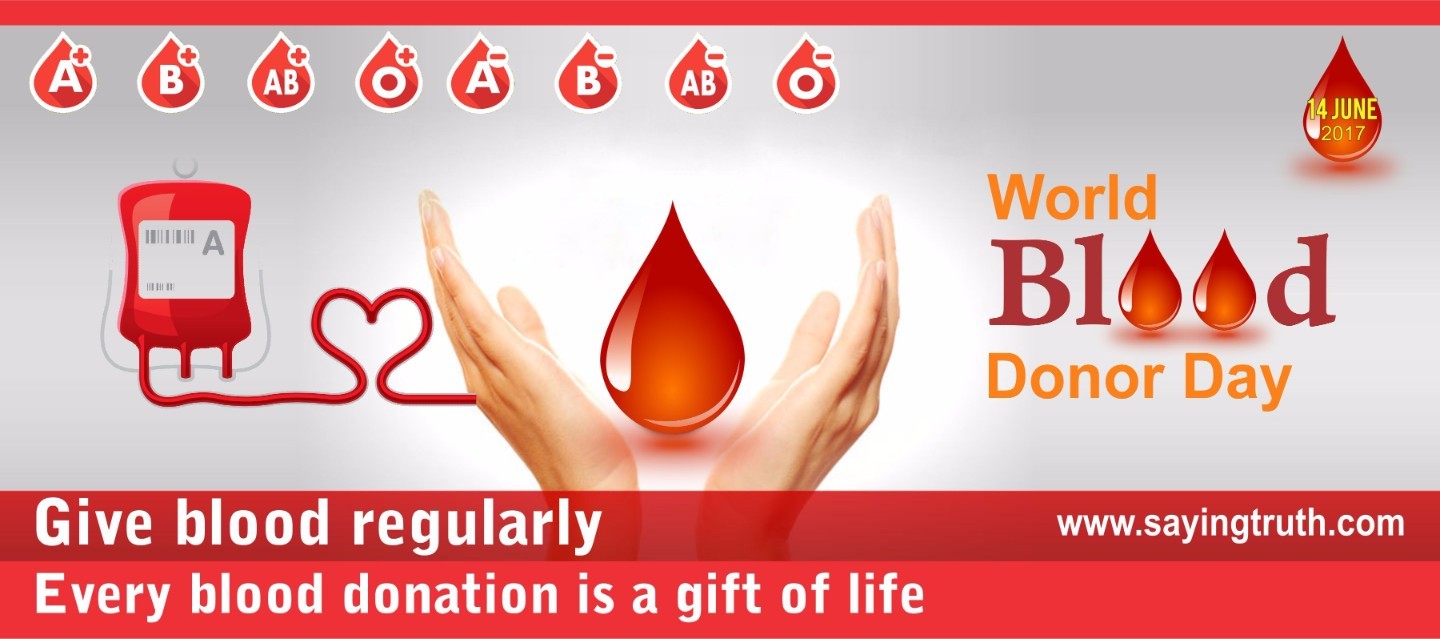 For instance, there is blood donation on the occasion of weddings, as well as after someone's death; on wedding anniversaries and children's birthdays.
Apart from special occasions, there are also people who have vowed to regularly donate blood. There are also people who have donated kidneys in their lives and pledged to donate their eyes after death.
Also Read: Legal Rights every pregnant woman in India must be aware of
Creation of a blood drop under Largest Human Droplet event
In order to spread the message of blood donation, on 24th March 2013, the Shah Satnam Ji Green 'S' Welfare Force Wing also created a blood drop under the Largest Human Droplet event to commemorate the holy incarnation month of the founder of Dera Sacha Sauda, Shah Mastana Ji Maharaj.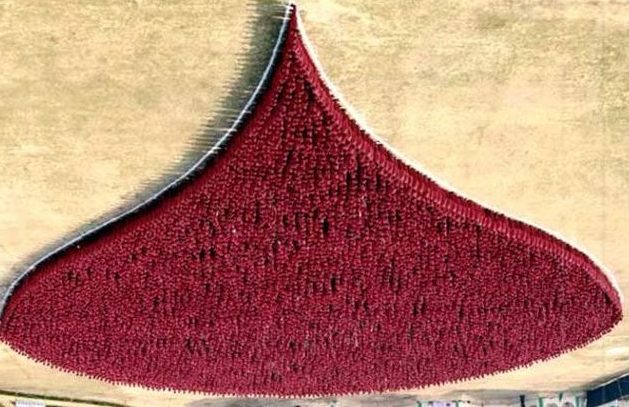 In the event, 10,500 volunteers wearing red t-shirts and caps formed a 24,000 sq. Feet blood droplet.
To dispel myths
In order to encourage blood donation, the World Health Organisation declared 14th June as the World Blood Donor Day or International Blood Donor Day in 2004
The aim of this move was to increase awareness about the importance of blood donation. Nonetheless, it did not get the attention expected in the world's most populous nation, India.
The myths and false assumptions in India regarding blood donation caused this tepid response. A major myth is that blood donation causes weakness in the donor and that the body takes a long time to make up for that loss of blood.
There is also a belief that regular blood donation decreases a person's immunity, thereby making them more susceptible to diseases. These beliefs have kept people from contributing during blood donation drives.
Due to this, the Revered Saint Dr. Gurmeet Ram Rahim Singh Insan makes it a point to encourage people to donate blood and dispels myths surrounding the issue during his sermons.
Also Read: 10 Signs & Symptoms of Dehydration
The importance of blood donation
Lakhs of units of blood are needed everyday in hospitals around the country and the world. Numerous patients end up losing their lives only die to loss of blood.
The blood donated by you can give some of these patients a chance at a new life.
Blood donation helps
In addressing loss of blood in case of accidents and injuries
In addressing loss of blood during operations and surgeries
For saving the lives of people afflicted by illnesses like haemophilia
The plasma from the blood helps in saving the lives of burn victims
In maintaining the level of haemoglobin in patients suffering from kidney-related ailments, cancer, and anaemia
For helping patients of thalassemia
Benefits of Blood Donation to the Donor
Improves Overall Cardiovascular Health.
Reduces the chance Heart Attacks.
Reduce Cancer Risk.
Boost the Production of Red Blood Cells.
Lower Cholesterol Level.
Helps in Weight Loss.
Aids in fighting Hemochromatosis.
Donor Automatically Warned of Serious Illness.
Time taken for donating blood
Only one unit of blood is taken at a time per person during a blood donation. The process takes about five to six minutes.
One unit of blood means 350 ml of the approximately 5 to 6 litres of blood in our body.
This loss of blood is made up for by the body within 24 to 48 hours.
Also Read: 11 Reasons Why Everyone Should Switch To Ayurvedic Diet
Who is eligible to donate blood?
While donating blood, it is the donor's responsibility to not only donate blood of a good quality but also to ensure his own well-being.
The eligibility criteria for blood donation is as follows:
You must be older than 18 years and younger than 60 years of age
You must weigh more than 50 kg
You must neither be suffering from infectious diseases like cold or flu, nor chronic ailments like diabetes, etc.
The level of haemoglobin in your blood should not be lower than 12.5
During the donation, your body temperature and blood pressure must be normal
You must not have taken any medication in the last 48 hours
Pregnant women and women that are breast-feeding their children cannot donate blood.
You must not have undergone any operation or surgery in the last six months
People suffering from any heart, kidney or liver-related disorder, or ailments like asthma or blood related diseases cannot donate blood
Women should avoid donating blood during their menstruations
After a blood donation
After a blood donation, a lot of people's blood pressure drops and they might feel a little dizzy. In this case, the person should sit for a while and consume the refreshment provided.
You can resume work 30 minutes after donating blood. However, avoid hard and strenuous exercise immediately after donating blood.
There are no dietary restrictions after a blood donation, nor is there a necessity to eat energy enhancing products.
38,000 units of blood is needed everyday
Blood can be produced only in the human body and hence, the requirements of blood can only be fulfilled by people.
India alone needs 4 crore units of 250 cc every year of which only 50 lakh units are available.
Every second someone is fighting for their life due to a shortage of blood.
Every day, hospitals around the country need 38,000 units of blood and 30 lakh red blood platelets are needed in a year.
According to statistics, more than 25% people need blood at some point of time in their lives.
So Pledge to Donate Blood