Hind Ka Napak ko Jawab released on 10th February in 3000 screens across the country and has been ringing its way to the box office.
The amazing part that needs to be highlighted here is that, unlike other Bollywood movies, Saint has declared that the proceeds from Hind Ka Napak Ko Jawab will be used for the noble building a bone bank that'll help handicapped patients.
With Hind Ka NaPak Ko Jawab's box office collection, Saint Dr. Gurmeet Ram Rahim Singh Insan Aka MSG has again proved that he is one of a kind in Bollywood.
The film has bagged an average rating of 4 out of 5 on almost all social media platforms, especially on Book My Show and IMDB, which is phenomenal in all way.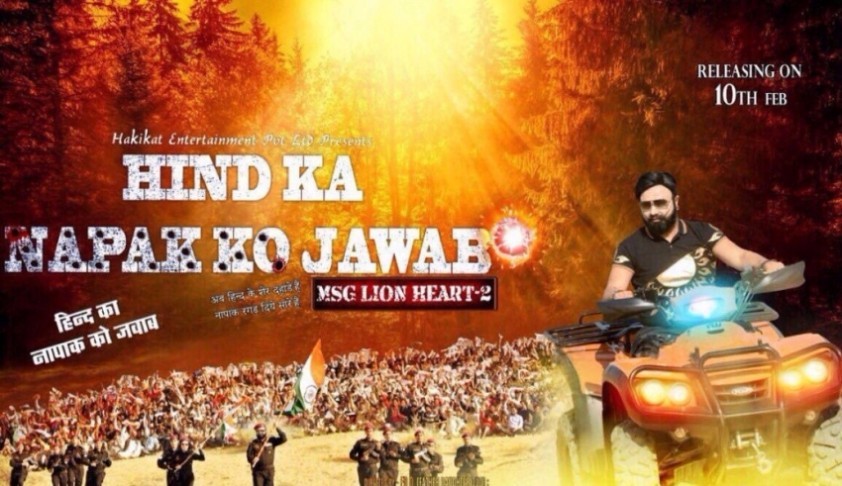 Despite facing box office clash with other releases too, this fourth installment has still emerged to do exceptionally well and there has been no stopping ever since its been released.
Looks like, with HKNKJ in cinemas today, Saint MSG is all on the track to break his own box office records in the nearby future.
Saint Dr. Gurmeet Ram Rahim Singh Ji Insan`s latest flick, Hind Ka Napak Ko Jawab has entered it's another weekend. This brilliant screenplay packed up with an adept performance by the cast is running successfully with jam packed theatres.
The 130-minute riveting story will give you a strong feeling of what generally happened that night, when our Indian army took the brave decision to carry out surgical strikes in late September. Saint Dr. MSG proves it again that he is the best, and even his daughter director Honeypreet Insan completely do justice to her role.
The most amazing Father-Daughter Duo directorial Hind Ka Napak Ko Jawab has enjoyed an excellent run in the opening week and is still heading strongly on box office despite new releases. With an inevitable positive response, the movie is witnessing good occupancy in theaters and is successfully dominating all new Hindi offerings now.
Now since the movie is running in the second weekend, it's pretty evident from its collections that, HKNKJ is still the first choice of audience. For a film that has been released on almost 3000 screens in India, is now almost running to capacity, which is a good feat indeed. The film presently stands at a massive 21st day (3rd week) collection, grosses 261.04 crores at the Box Office.
| | |
| --- | --- |
| Day 1 | 15.1 Cr |
| Day 2 | 15.25 Cr |
| Day 3 | 19.85 Cr |
| Day 4 | 12.9 Cr |
| Day 5 | 14.96 Cr |
| Day 6 | 11.97 Cr |
| Day 7 | 13.00 Cr |
| Day 8 | 10.40 Cr |
| Day 9 | 13.03 Cr |
| Day 10 | 14.64 Cr |
| Day 11 | 12.03 Cr |
| Day 12 | 12.22 Cr |
| | |
| --- | --- |
| Day 15 |  12.05 Cr |
| Day 16 |  15.01 Cr |
| Day 17 |  13.03 Cr |
| Day 18 |  8.7 Cr |
| Day 19 |  8.4 Cr |
| Day 20 |  7.08 Cr |
| Day 21 |  7.7 Cr |
The anticipation surrounding the movie has been massive especially since it deals with the topic of Indian Army's recent successful surgical strikes and exposes Pakistan's agenda of sponsoring terrorism. In the movie, Saint Dr. Gurmeet Ram Rahim Singh Insan Aka MSG plays the role of an Indian agent Sher-E-Hind who crosses the border into Pakistan and battles against terrorists that are sheltered by that country's government.Amazing public response
The movie earned a lot of praise and high ratings from reviewers as well as celebrities during a grand premiere which was held at the Sahara Star in Mumbai.
Unity in diversity
The theme of patriotism combined with a social message has struck a chord with Indians across the nation. The film has shown excellent trends in all the circuits of India including south with Tamil, Telugu and Malayalam versions, but it is specifically the North (Hindi belt) which have stood out for HKNKJ till date. Other releases have fallen to lower levels now, leaving HKNKJ the only choice for cinema goers.
This Saint Dr. MSG starrer is expected to hold well in coming days too as the movie is yet to be released at international platform.
Share This Article With Friends
To get news on WhatsApp free, just send 'Start' to 9729997710 via WhatsApp