With the aim of finding and nurturing India's best sporting and taking their luster to the global horizon, Dera Sacha Sauda has gifted a precious gift to the sports world in the form of "MSG Bhartiya Khel Gaon." Talking to the media during inaugural event of this state-of-the-art sports village, Saint Dr. Gurmeet Ram Rahim Singh Ji Insan evinced the aim of setting up this multi-sport arena in an underdeveloped area like Sirsa (Haryana) is to foster the talents with international techniques and quality training.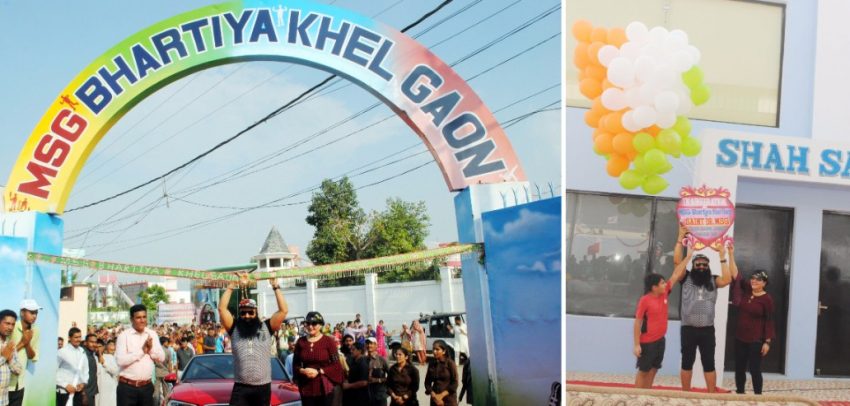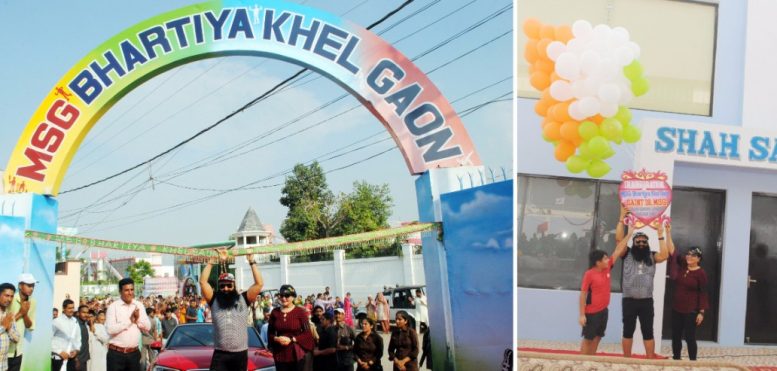 Spread across 23 acres, the MSG Bhartiya Khel Gaon / Sports Village boasts of over two dozen stadiums where Sportspersons can train together. Along with expert instructors from different sports, Saint Dr MSG Insan Himself will regularly provide tips and training to the sportsmen here. It's noteworthy that players trained by Saint MSG have brought laurels to the nation in various sports like yoga and roller skating hockey.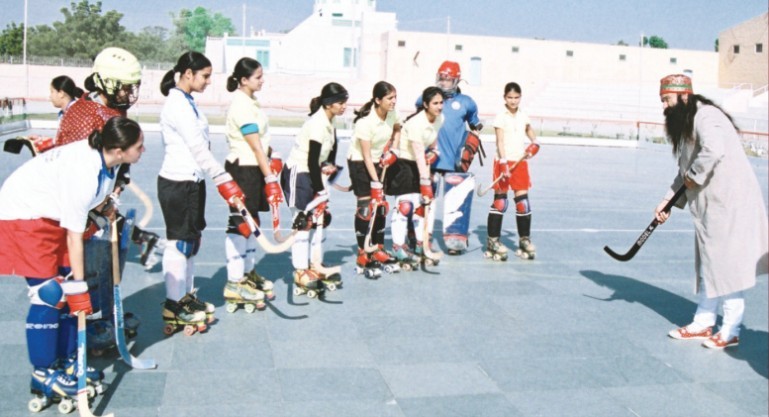 MSG Sports Village Aims To Prepare Sportsmen For Olympics
The MSG Sports Village has set its goals high to help raise India's sporting talent so that they can win the maximum number of medals at the Olympics. International players like boxer Vijender Singh, Manoj Kumar, shooting champion and Union Minister Rajyavardhan Singh Rathore, Thakur Singh, and coach of the Indian Railways team Devendra Singh might be visiting this sports village to impart techniques to the sportsmen.
MSG Bhartiya Khel Gaon, All Sporting facilities under One Roof
At this state-of-the-art sports village, players will be able to train for over 2 dozen sporting events under a single roof. The MSG Khel Gaon comprises an international-level Cricket Stadium, clay and synthetic courts for Lawn Tennis, Roller Skating stadium, Volleyball court, Hockey court, Gymnastics area, Gun shooting range, and a Netball stadium. Along with the facilities, the Games village also has a multipurpose hall where training for Yoga, Badminton, Volleyball, and Archery will also be provided.
The MSG Sports Village also features an all-purpose pool where sports-persons can train for games like swimming, water polo, and diving. Along with that, there's an all-jumping facility where Games such as Long Jump, High Jump, Triple Jump, and all-throwing can be practiced by the sports-persons. The games village also features a Judo hall for practicing martial arts.
The MSG Indian Games Village also features a 400 meters standard track which can be used by athletes. This track will enable them to train for sporting events such as 100 meters, 200 meters, 400 meters, and 800 meters running.
No Place for Drug-addicts in Sports village: Saint Dr MSG Insan
Talking to the media, Saint Dr MSG Insan informed that talented athletes and Sportspersons will be provided with every necessary facility at the MSG Khel Gaon (Sports Village). Players who are passionate and diligently follow the right technique, power, and speed will definitely make their way to Olympics, he said.
He also said that sports-persons would also be imparted spiritual training and there would be absolutely no place for those who consume drugs or have any kind of addiction. The sports-persons will also be encouraged to practice abstinence which would allow them to focus better on their games. The entire venue has also been equipped with CCTV cameras.
Under Saint Dr MSG Insan's Guidance Players Have Won Hundreds Of Medals At International Events
With the guidance and blessings of the Revered Saint, Sportspersons from the Shah Satnam Ji Educational Institutions have made the country proud on an international level in sporting events such as yoga, Roller skating, Hockey, Judo etc. Saint Dr MSG has himself played over 32 national games and takes time out from his busy schedule to impart sporting tips to all the young players. For this reason, he is referred to as Papa Coach by the young sporting talent.
In a place like Sirsa which was earlier termed as "underdeveloped", the Dera Sacha Sauda has built international-level venues for games such as cricket, swimming, roller skating, hockey, and several others. Thanks to these facilities, hundreds of sports-persons from the Shah Satnam Ji Educational Institutions have shined internationally in the field of sports and brought countless laurels for the country.
Five Sportspersons from here have won the Bhim Award which is the most prestigious sporting award in the state of Haryana.
Currently, there are over 1029 Sportspersons in Shah Satnam Ji Educational Institutions of which 524 are male and 505 are female. Over 107 international Sportspersons and 6120 national-level Sportspersons have emerged from the Shah Satnam Ji Educational Institutions. These Sportspersons have won 31 gold, 19 silver, and 13 bronze medals across various sports in international world cups.
These Sportspersons have also won 22 gold, 40 silver, and 33 bronze medals at Asian Games. The Sportspersons from Shah Satnam Ji Educational Institutions have won 943 Gold medals at the national level. At the CBSE level, these sportspersons have won 735 gold and 1181 silver medals. A total of 102 Sportspersons from this educational institution are working in various Government services from sports quota.
Winners are appreciated with Gold, Silver and Diamond Medals: The Dera Sacha Sauda has spent crores of rupees in order to boost sporting talent and infrastructure. Saint Dr MSG Insan bestows successful sportspersons with medals that are diamond-encrusted and made of pure gold and silver in order to encourage and motivate them. Over Rs 5 crores worth of gold has been presented to successful sportspersons in the form of medals until now.