The Friday, Oct 7 release saw mainstream Bollywood releases Mirzya and Tootak Tootak Tootiyan losing out on the box office while MSG The Warrior Lionheart has gathered unexpected momentum. An independent and objective analysis of public reviews and fan craze shows that MSG fan craze rivals and overtakes Rajinikanth's films. Bollywood film websites have independently confirmed and uploaded videos of joyous fans of MSG celebrating wildly.
On the collections front, MSG has also started on a very strong footing this time.
The distributor of Mumbai, Ashish Wagh, East Punjab distributor, Pankaj Khemka, Brijesh Tandon from Delhi and UP, Sanjay Marudhar from Rajasthan territory have all confirmed that houseful footfall are the norm in every MSG release and this one has upped the ante.
Also Read: MSG The Warrior LionHeart – Total Entertainment
MSG The Warrior Lionheart is a family entertainer that engages the youth and children with its unique storyline and grand panorama. The visuals are engrossing and there is never a dull moment throughout. Mirzya wanders and meanders as a musical and fails to leave a lasting impact leaving you a little depressed. That's not what you pay moneys for. Tootak Tootak Tootiyan has failed to interest viewers as the genre of horror comedy seems disconcerting to  viewers who are still reeling under the shock of Raaz Reboot that was an unintended horror comedy and soft porn.
The most compelling concern propelling families to MSG is that it promotes family values and affection, something that interests every responsible parent. The competition Mirzya or Tootak Tootak Tootiyan, fails to weave any magic and engage families. Dhoni is doing OK put it is a longish  recap and  predictable fare. MSG is a Superhero who is an Indian answer to justice league.
Also Read: MSG The Warrior LionHeart Movie Review and Rating
MSG The Warrior Lionheart has become the first film in Bollywood ever to run its opening shows for 24 hours on a trot. The film released at 12 midnight Thursday, and has gone on in theaters non stop in several locations in North India.
On Friday, the film has done the best business out of all Friday releases raking in 18.070 Crores gross at the box office.
Independent trade websites and magazines have corroborated the excellent performance of the film and it's extreme fan craze.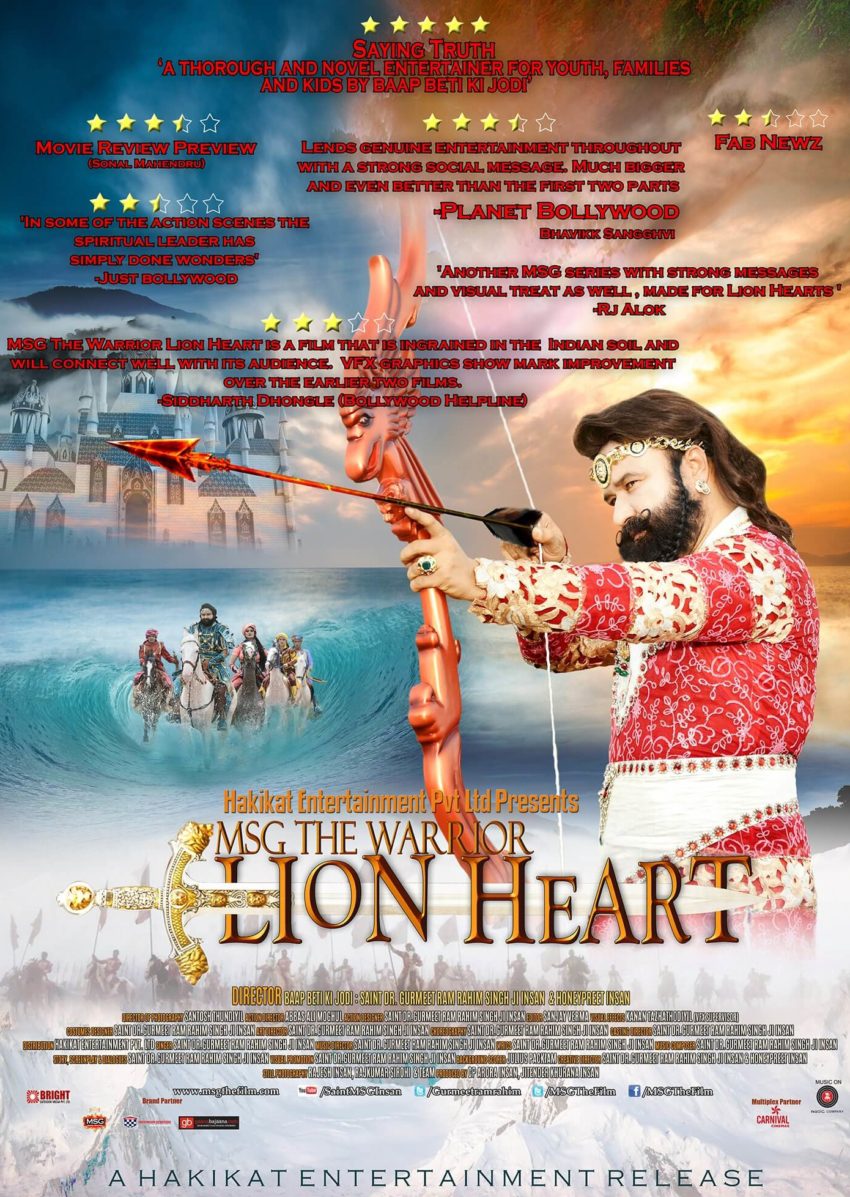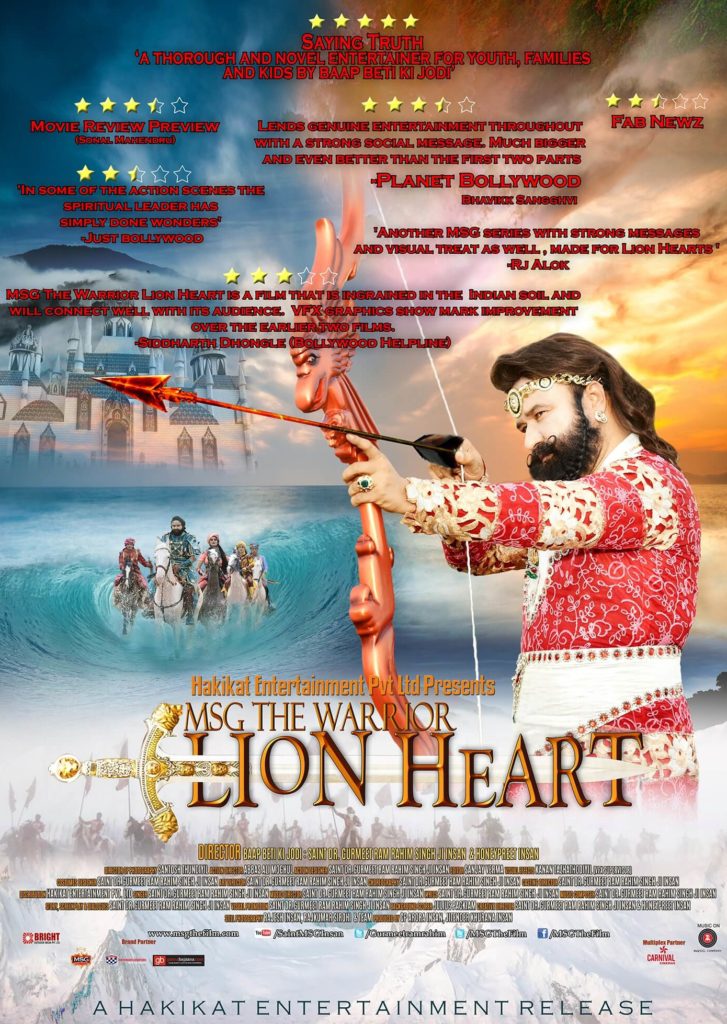 Source Image
Here is what others have said:
A Thorough and Novel Entertainer for Youth, Families and Kids by BAAP BETI KI JODI
Ratings: 5/5 Stars
 MSG: The Warrior Lion Heart – Lends genuine entertainment throughout with a strong social message. Much bigger and even better than the first two parts.
Ratings: * * * 1/2 (3.5 stars)
-Bhavikk Sangghvi,
 'Another MSG series with strong messages and visual treat as well'
~Rj Alok
MSG The Warrior LionHeart is a film that is ingrained in the  Indian soil and will connect well with its audience..VFX Graphics show mark improvement over the earlier two films….
Ratings: 3/5 Stars
Siddharth Dhongle
Bollywood Helpline 
Dr Gurmeet Ram Rahim Singh Ji Insan and his daughter Honeypreet Insan try their best to weave an engaging narrative and succeed to a major extent.
In some of the action scenes the spiritual leader has simply done wonders.
Rating: 2.5 stars
Rating: 2.5 Stars
To get news on WhatsApp, just send 'Start' to 09729997710 via WhatsApp