Weddings are supposed to be happy occasions just like festivals. However, no social event is free from a few anti-social elements which can completely ruin the festival. In the last few years, fatal accidents during the weddings have increased. The celebratory firing and over consumption of liquor are the major reasons of such accidents.
Recently, a drunken man killed a dancer in Bathinda just because she refused to dance with him. In another event, a CRPF jawan was killed in celebratory firing in West UP. The number of incidents is increasing at a rapid rate and even after strict orders from court and government, such incidents are not declining.
The brave man who stood against all
Subhash Kashyup who is soldier and hail from Bhagpat village in UP is going to get married real soon. To spread awareness against alcoholism and increasing fatal accidents due to celebratory firing, he has found an innovative way.
On his wedding card, he has a disclaimer printed that says if the invited person is looking ahead to do some celebratory firing or have alcohol at his wedding, the person need not waste his time in attending the wedding as both are banned on his wedding.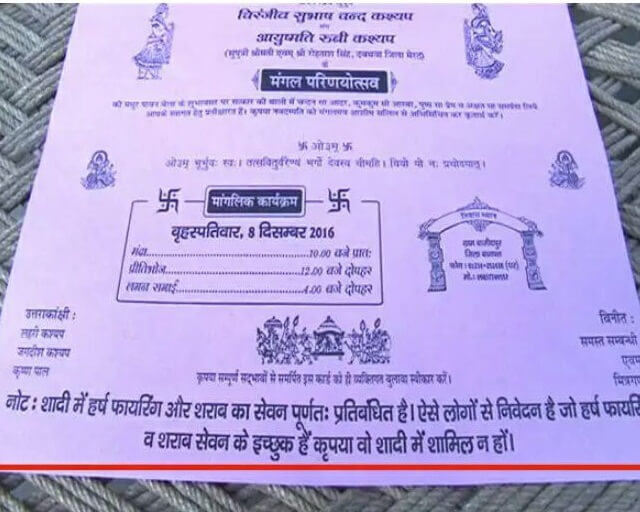 Source Image
Subhash is facing a lot of criticism from relatives and friends over his decision but his and his would-be wife's immediate families are standing with him on the decision.
He said in an interview that he is not against celebrations on the wedding but there is no need to use deadly weapons or consume alcohol to show enthusiasm. He will be the last person who wants to turn a happy event into a mourning one. A lot of guests have already called and questioned him on his decision but he is in no mood to back out.
In the light of recent events, we need more bride and groom to come forward and show similar ethics against alcohol and celebratory firing. Weddings are meant to be a happy event and it should remain the same.
To get news on WhatsApp, just send 'Start' to 09729997710 via WhatsApp