Niti Aayog declared the 12 winners of its 'Women Transforming India' campaign at Friday evening. The youngest winner is nine-year-old Muskaan Ahirwar, who runs a library in her village near Bhopal.
It's amazing how the little kids of our society are contributing each day in making this world a better place. Whether it is in the urban areas or rural areas, children have become aware of the needs of society. That's why they are willing to play their part in its betterment. Just like this 9 year old girl from Bhopal who runs a library in her chawl to educate slum children.
Also Read: Family Celebrates Daughter's Birthday by Sponsoring Girl's Education
Let's look at her story in detail: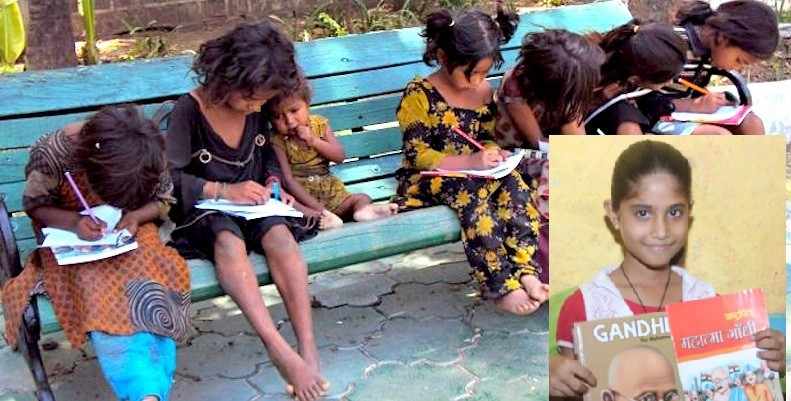 Source Image
Muskan Ahirwar, a 9 year old girl, runs a library called Baal Pustakalya in the slum are of Aera Hills. Every day after school, she sets up her library at 4 pm. The books that are provided by the Rajya Siksha Kendra are spread on a mat by her outside her house. After that, the children pick the books one by one.
Also Read: School Principal Invests 14 Years To Instill Confidence in Tribal Students
A team of the State Education Board visited the slum with the aim of developing interest among children for reading. They even provided 25 books so that it can help them without costing them at all. The team also conducted a Q&A round to understand the learning skills of students. Out of everyone, Muskaan won the quiz. As they were impressed by her knowledge, they gave her the responsibility of educating other slum kids. The officials gave her the books to share with children and asked her to help them in learning, Business Standard reported.
She also maintains a register in which she keeps a track of the books children take to read. She makes sure that they return books on time and her elder sister Neha helps her in the whole process.