Peace of mind being a natural condition must be available to everyone. In the case of anxiety and stress, people also get affected by various physical problems like heart disease, ulcers, and colitis. This leads to reduced strength of the immune system, thus making people more vulnerable to bad health conditions.
When people are free of depression, anxiety, excessive stress and worry, addictions, and other psychological problems, they are more able to live their lives to the fullest.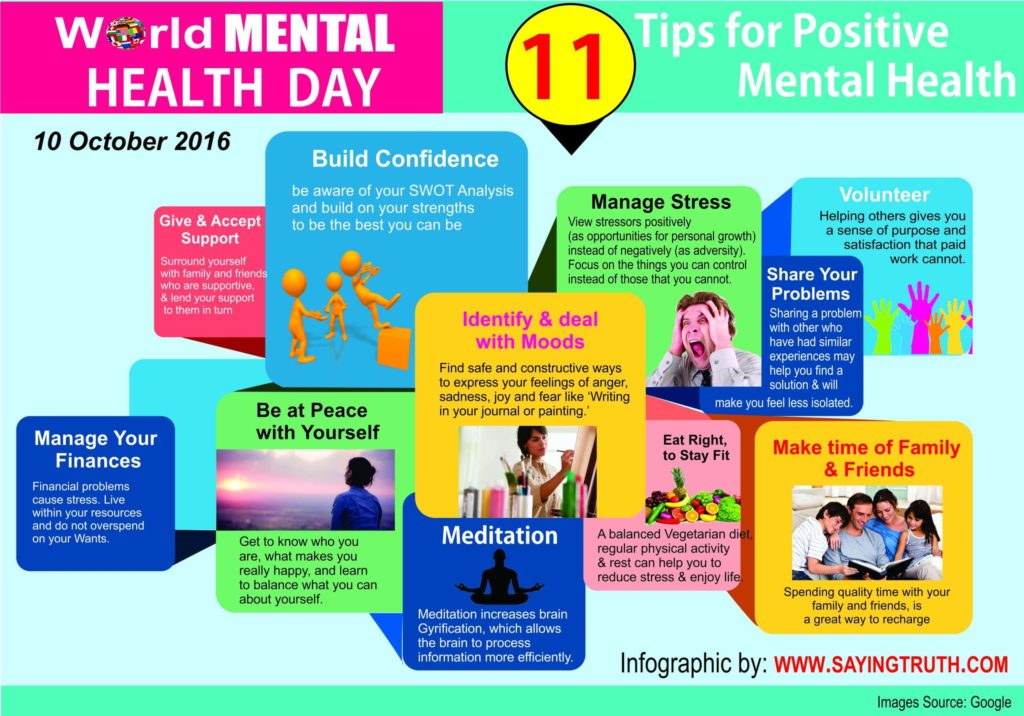 Following are listed 11 tips (in ingographic also) that can lead to positive mental health so that you enjoy your life to the fullest:
Be Peaceful at yourself: It is important to know about your own self, things which make you happy. A perfect balance of mind and soul is important for a healthy life.
Give and accept support: A positive life is always surrounded by family and friends who instill positive emotions in you. Also it a duty to provide them support in return which also leads to peaceful living.
Also Read: Prevent your Heart against these Risks for a Long & Healthy Life: Infographic
Manage your finances: As we all know that money matters, a good financial condition is key to peaceful life. We should make optimum use of our resources and avoid overspending on unnecessary requirements.
Build Confidence: SWOT analysis is a mantra not only for corporations but also for oneself. Being aware of your strength and weaknesses ensures that you can rightly move ahead on the path of progress.
Meditation: A mind that meditates is free from tranquility. Meditation turns the attention to a single point of reference, leading to a blissful mind.
Identify and deal with moods: Anger, joy, fear, sadness are just different mood stages and when you find the right channel to express them, you gain control over your mind. A mind in control is a mind in bliss.
Also Read: Reports Say, Smoking Permanently Damages the DNA
Manage stress: Stress management is about taking charge of lifestyle, thoughts, emotions, and the manner of dealing with the issues. Even a stressful life can be managed for relieving pressure and regaining control.
Eat right, stay fight: As proven, a vegetarian balanced diet shapes a healthy mind and soul. You can enjoy a positive life by having daily exercise routines as per your body needs.
Share your problems: As they say, sharing is caring. Get relieved of your worries as you will feel light as you share your emotions in event of any issue. People often stumble over solutions while they discuss their issues.
Volunteer: With a busy life, it is hard to find time to volunteer. However, the benefits of volunteering are enormous for a person, family, and community. The right match helps in reducing stress, finding friends, reaching out to the community, learning new skills, and even advancing the career.
Also Read: Vegetarian food is healthier than non-vegetarian food: Study
Make time for family and friends: Nothing can recharge your brain in a better way than spending quality time with your family and friends. As you spend time with closer ones, your mind attains more peace.
Conclusion
We should always remember that mental health includes emotional, psychological, as well as social well-being. It affects our thinking process, feeling, and actions. Mental health is important at all the stages of your life, from childhood and adolescence through adulthood.
To get news on WhatsApp, just send 'Start' to 09729997710 via WhatsApp