On Monday a Sashakti program was launched in New Delhi by Delhi Police. It is an initiative to train girls how to use self-defence techniques during any trouble. These techniques will be easy to learn and this program aims to train over 1 lakh girls and women.
About the event!
The event was streamed live for the people of the city and it witnessed the participation of about more than 15,000 girls. The event was commenced with display of the defence techniques. Several girls came from more than 50 schools and colleges, mostly belonging to the west district. The helium aerostat balloon having a slogan 'Surakshit Dilli' was released in the sky and the crowd cheered.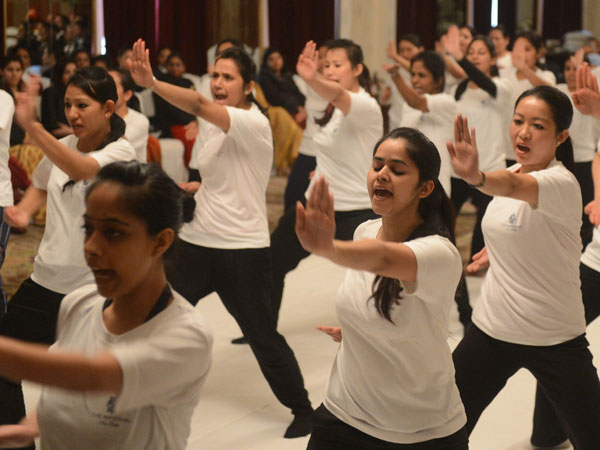 Source Image
The officers also answered the queries of the girls related to cyber crime and they also provided some tips about how to be safe when online. Most of the questions were regarding the safety of the content on social sites and apps like Facebook and WhatsApp. About more than 20,000 girls from different schools and colleges have got training as a part of the program.
Also Read: 3 Best Women Safety Apps To Install in your Smartphone
The aim of the program
Dependra Pathak, Commissioner of Police in Southwestern Range, told media that the aim of this training is to train over 1 Lakh girls and to assure that the girls are safe and doesn't feel vulnerable while travelling alone. The goal is not just to sensitize females regarding the dangers, but to make them learn how to overcome these dangers using self-defense training.
Other parts of the Program
The male students have also been instructed about POCSO (Protection of Children from Sexual Offences Act), and they were also trained about how can they help a woman, if she is in trouble. This was confirmed by Vijay Kumar who is Deputy Commissioner of Police in West region.
The ending of the event!
The event ended with a street play, which displayed how the youngsters should play safe and how smartly they should handle the situation at the time of emergency. The training sessions were managed by Anita Roy, DCP III (west).
The program was brought forth by her only. She has been a student of self-defense and she could connect well with the students, as said by Kumar. The program was concluded by an award ceremony, the prizes were given to those who won accolades at the events held throughout Delhi Police Week.
Conclusion
This noble initiative is an appreciative step by the Delhi Police. Even those who can't afford to pay for self-defense training can attend the sessions in Sashakti program. This will literally help the girls to travel alone and will also boost up their confidence. I would like to thank Delhi Police to come ahead on such a sensitive issue.
Share This Article With Friends
To get news on WhatsApp free, just send 'Start' to 9729997710 via WhatsApp