The Clean Kerala Company now plans to collect shredded plastic from residents and municipality authorities for road construction. This move will curb the increasing amount of plastic bags and other products disposed of in civic spaces across Kerala. Formed under the State Local Self-Help Government, the Clean Kerala Company is an organisation involved in state-wide waste management initiatives.
These initiatives involve works to convert solid waste to CNG, collect and recycle e-waste, organisation of plastic collection drives, etc. Often, products made of thermosetting plastic are most dangerous as they do not decompose and emit toxic fumes when burnt.
Also Read: France Bids A Controversial Farewell To Plastic
To find a sustainable alternative to disposing plastic, the state government has issued orders appointing CKC as the nodal body to collect shredded/granulated plastic.
Laying Roads from Waste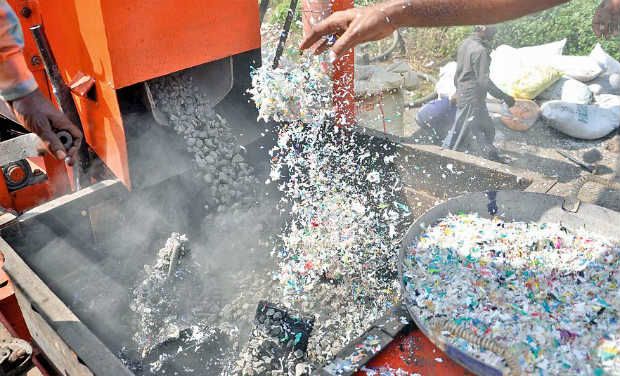 Source Image
To use plastic waste to lay roads leads to reduction in road fatigue and improvement in the quality of roads. These roads are more resistant to cold weather as well as rainfall. Furthermore, to create the mixture to lay such roads is a simple process. The aggregate mix is heated to 165 degree Celsius, then transferred to the mixing chamber as bitumen gets heated to 160 degrees Celsius.
Also Read: Jaideep Sajdeh: A Man Who Turns Rags Into Riches
Shredded plastic waste of a specific size gets added to the aggregate and mixed with bitumen. Then the resulting mixture is utilized for laying roads. According to the Hindu, Kabeer. B. Harun, Managing Director of CKC said that municipalities and residents can give away plastic products passed through a shredding machine to CKC. Furthermore, CKC will buy them for Rs. 15 per kilo.
The state government has issued orders to each local body. They are directed to use plastic in at least 10% of the laid roads in the areas under their jurisdiction. For laying these roads, contractors need to approach CKC. Then CKC will issue a supply order to allow them for purchasing granulated plastic for Rs. 20 per kg.