The basis of humanity lies in selflessly helping those in need. Indeed, it's little acts of kindness that can mean the world to somebody else and positively impact their lives. Kindness is also what gives purpose to our lives. As our society gets further urbanized, there's a fear that people are getting more isolated from their neighbors and the community. It seems as if we are so lost in our own world that we do not have a minute to think about the welfare or needs of others.
In the midst of all this madness, there are hundreds of people across our country who go out of their way to help society in whichever way they can. These selfless heroes are people that make our country great and also keep humanity going.
They don't do this for applause and neither do they care about rewards. It is, therefore, even more, important to recognize these people and tell their stories. That is the only way to inspire the spirit of generosity and selfless service amongst all Indians.
Here, we aim to cover the stories of such unsung heroes from around the country who, through their little acts of kindness, are helping take this country forward every day.
Stories of incredible Indians who are selflessly serving others
The "Matkaman" of Delhi Quenches Thirst of Poor: There are very few people who know Alag Natarajan by his name. In his neighborhood of Panchsheel Park in New Delhi, he is more famously known by the locals as the "Matkaman". You may wonder: why this strange name? This is because Mr. Natarajan is single-handedly responsible for filling water in over 60 matkas (earthen pots) every morning in his neighborhood which he has placed there as a service towards all the poor and thirsty people.
Alag Natarajan is a 68-year-old retired gentleman. However, his enthusiasm and spirit should be a source of inspiration for every young person in India. Every morning, this "matkaman" wakes up at the stroke of 4:30 am when it is still dark outside. From then until 6 am, he travels around the locality in his car filling up water in all these matkas.
He placed these matkas in and around the neighborhood to provide safe and clean drinking water for the poor and homeless. These pots also provided much-needed refreshment to people who are tired of walking in the scorching heat during Delhi's extreme summers.
This, surprisingly, isn't the first time that Mr. Natarajan has dedicated himself to the service of others. He used to work as an engineer in London and came back to India in 2005 after being diagnosed with cancer. He says that the experience of suffering from cancer taught him a lot about the spirit of selfless service and the importance of doing something for humanity.
After recovering, he started volunteering with the Shanti Avedna Sadan cancer hospital where he would tirelessly work for the patients and their relatives. He has even ferried dead bodies of people in his car for their funerals because the families couldn't afford an ambulance. After this, he was greatly concerned about the lack of adequate drinking water for poor people in his neighborhood and decided to install these matkas for their service.
He also modified his van to be able to carry 700 liters of water every day so that every matka can be filled. He works together with his house help, gardener, assistant and a local drainage cleaner who lives in the area to deliver this water every morning. Despite the fact that it takes them 4-5 trips every day, Mr. Natarajan diligently does this every single day together with his volunteers.
Next time you're in that part of Delhi, look out for a van with "matkaman.com" written on it. And if you manage to see it, do try and go up to Mr. Natarajan and thank him for his selfless service.
Abhaya Ambulance Service distributes water: In the opposite corner of the country from New Delhi, there's another story of selfless service from Kerala. Binoop, a young gentleman from Kottayam in Kerala has been of massive help to the people of the city who have been reeling from a severe water shortage.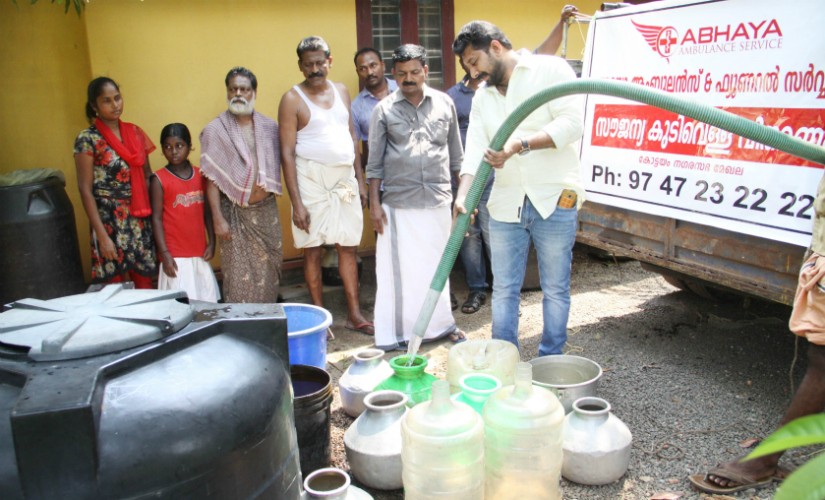 Using his ambulance, Binoop distributes drinking water to every resident in 2 municipal wards of the city. In just the month of April, this kind man had distributed over 20,000 liters and hasn't even taken a break.
Despite a scorchingly hot summer, the residents of Kottayam have been able to enjoy access to clean drinking water thanks to the efforts of Binoop. Even the local municipal councilor appreciated his efforts in helping the residents in dealing with the problem of water shortage. In just a day, Binoop manages to deliver fresh drinking water to over 30 houses.
And this man has no intention of stopping. Binoop said that he plans to continue distributing water through the entire summer to ensure that people do not face any inconvenience.
These stories of selfless service and humanity are an inspiration to millions of Indians around the country. It is these little acts of kindness that define what it means to be human. We salute these unsung heroes and hope that their stories inspire all of you to help society in whichever way you can.
Share This Article With Friends
Click to Download Saying Truth App